&Tradition – Copenhagen Desk Lamp SC15
Out of stock
---
Description
The &Tradition – Copenhagen Desk Lamp SC15 is ideal for any sized desk, the Copenhagen desk lamp will pave the path for pondering great ideas.
---
Product Information about &Tradition – Copenhagen Desk Lamp SC15:
Design: Space Copenhagen, 2018
Material:
Specifications: 
5.5 Watt LED
Light output: 420 lumen
Dimmer on base
The luminaire is energy class: A
3,5 m Cord
Measurements: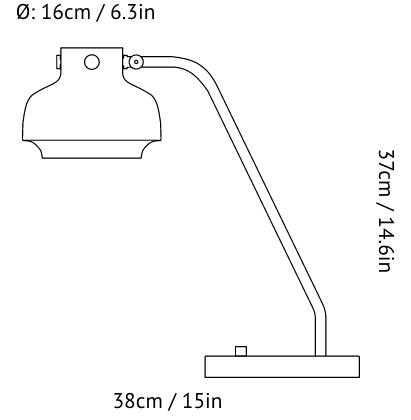 Shade
Base
Hight 37cm / 14.5in
Depth 38cm / 14.9in
See also Copenhagen floor lamp SC14 & Copenhagen wall lamp SC16
---
Delivery time:
1-2 weeks
---
The Copenhagen Design by Space Copenhagen
Imagine Maritime gas lamps lighting the way on dark cobblestone streets dating back over a century. Now imagine a modern version that embodies the essence of this icon in a desk lamp crafted in opal glass and oxidised brass – and you have Copenhagen by the design duo at Space Copenhagen.
The compact size allows you to place the lamp in all kinds of settings and the swivel feature gives you more possibilities for illumination. Light intensity is seamlessly controlled through a new dim-feature reflecting the latest Nobel Prize findings about our inner clock and the benefits of proper lighting on our wellbeing. Turn the knob on the base of the lamp from a colder brighter white light for daytime to a warmer white light for a cosy effect. A customised, built-in LED module ensures energy efficiency.
---
Important Information:
If you have questions about the products by &Tradition or interested in ordering a bigger amount we ask you kindly to contact us directly by mail: shop@nordicurban.com
Nordic Urban is the official German partner of &Tradition and is guaranteeing for the quality and authenticity of every products. Besides this product we also offer a wide range of Scandinavian furniture, lighting and accessories.
Nordic Urban in Berlin, your expert for Scandinavian design!
---