Askman Design – Rondo Kids Chair
5% Discount - reduced in cart

The Askman Design – Rondo Kids Chair is a classic design, which your kids should absolutely love to have! When Askman Design launched the children's version of our Rondo chair, we were the first Danish design company to present design classics made for children.
---
Product Information about Askman Design – Rondo Kids Chair:
Design: Erik Jørgensen
Material: 
10.5 mm laminated veneer shell
PECG – and/or FSC-certified veneer

Varnished Beech
Varnished Standard Colours – Colour Range
Can carry up to 60kg
Seat Height: 
Legs:
16mm seamless steel tube – Chrome
Feet:
standard plastik feet

a very durable material that is suitable for use on most surfaces. It does not leave any traces on the floor. Due to the plastics` special abilities and shape, the foot does not leave pressure marks even on soft surfaces. It is therefore suitable for use on most floors.

Felt (for hard floors)

Flexible foot, made of black PE + LLDPE plastic with felt. 18mm felt surface.
Reduces the sound from approx. 80db. to about 70 db. Thus suitable if you want to diminish the sound in the room. Suitable for floors where you wish minimal wear. For example wood, tiles, linoleum, vinyl, etc. Adjusts it`s angle to the floor.

Rubber (for carpet floors) available on request for same price as Felt glider.

Flexible foot, made of black PE + LLDPE plastic.
Suitable for hard and soft floors such as wood, linoleum, tiles and carpets. Adjusts its angle to the floor.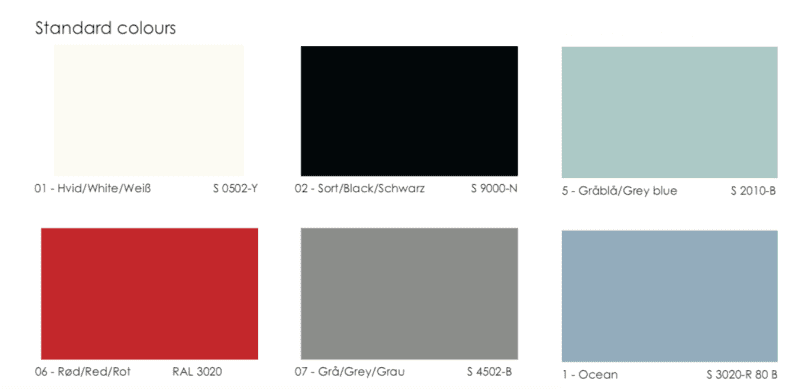 See the Adult version HERE
---
Delivery time:
5-7 weeks
---
The Rondo Kids Design:
Rondo Kids is available in different heights adjusted to the age of the child. Rondo Kids is especially popular in schools, libraries, kindergartens and the like. As with the adult Rondo, the Kids' chair comes in large array of colors. All the chairs are produced with consideration to the user and the environment thus are all wood used sourced from sustainable suppliers, and for the frame we only use environmentally friendly chrome (chrome-III) free from carcinogens and good to nature.
---
Important Information:
If you have questions about the products by Askman Design interested in ordering a bigger amount we ask you kindly to contact us directly by mail: shop@nordicurban.com
Nordic Urban is the official German partner of Askman Design and is guaranteeing for the quality and authenticity of every products. Besides this product we also offer a wide range of Scandinavian furniture, lighting and accessories.
Nordic Urban in Berlin, your expert for Scandinavian design!
Follow us on Facebook, Instagram, X(twitter)
| | |
| --- | --- |
| Weight | 8 kg |
| Dimensions | 70 × 50 × 40 cm |
| Chair | Varnished Clear Beech, Varnished Maple, Varnished Birch , Varnished Cherry, Varnished Oak , Varnished Walnut, Black Stained Beech, Wenge Stained on Ash, White, Black, Red, Grey, Cobalt blue, Racing green, Sun yellow, Charcoal, Grey blue, Orange, Ocean, Quartz, Blue, Green, Pistachio, Turquoise, Roseanne, Papaya, Ivory, Saffron, Dark red, Purple, Light olive, Lime |
| Base | Chrome, Black, White, matt lacquered Aluminum |
| Seat Height | 26cm, 30cm, 34cm |
| Feet | standard glider, felt glider |
Related products