The Caravaggio Read Floor Lamp by Light Years is yet another addition to designer Cecilie Manz' iconic Caravaggio™ series. Based on the wall lamp's adjustable shade, she has created a whole new universe of Caravaggio™ lamps with functional, directional light.
---
These small lamps do exactly what they should and have a design that is as simple and minimalist as possible. The floor lamp can rotate 260 degrees around its own axis thus giving the user an extraordinary degree of flexibility. The floor lamp is fitted with a 3-step touch control dimmer for adjustment of light intensity. The small diameter of the base means that it is easy to position the lamp. In this way, the floor lamp can be pulled all the way to the sofa and provide you with light exactly where you need it. The floor lamp is fairly low to ensure that the light is more intimate.
---
Product Information about: Caravaggio Read Floor Lamp by Light Years
Designer: Cecilie Manz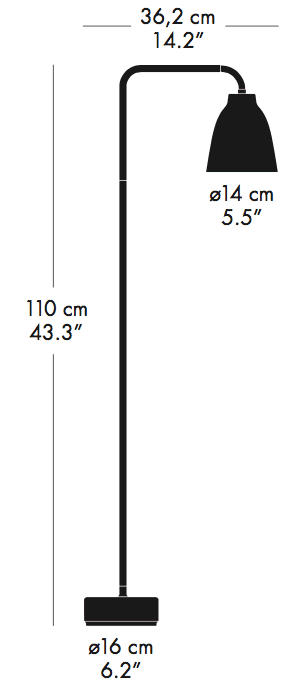 Shades:
White matt lacquer
Grey matt lacquer
Black matt lacquer
Hand-blown Opal glass, white matt lacquer
Specifications: 
PVC cord with plug
Cable length 2.5 m
3-step touch dimmer on the stand to adjust the light intensity
---
Delivery: 1-2 weeks
---
See also:
Caravaggio Read Table & Caravaggio Read Wall
---
Important Information:
If you have questions about the products by Light Years or interested in ordering a bigger amount we ask you kindly to contact us directly by mail:
Nordic Urban is the official German partner of Light Years and is guaranteeing for the quality and authenticity of every products. Besides this product we also offer a wide range of Scandinavian furniture, lighting and accessories.
Nordic Urban in Berlin, your expert for Scandinavian design!