Carl Hansen & Søn – CH24 Soft Campaign – Ilse Crawford
5% Discount - reduced in cart

---
Description
The Carl Hansen & Søn – CH24 Soft Campaign. Together we celebrate Hans J. Wegner and more than 70 years of collaboration with Carl Hansen & Søn. To mark this occasion, the CH24 Soft Campaign, designed together with renowned designer Ilse Crawford, will be released in 2022. The CH24 in nine matte and complex colors reinterpreted. A world-class classic in a limited edition, which shines in extraordinary colors in a new splendor.
---
Product Information to Carl Hansen & Søn – CH24 Soft Campaign:
Design: Hans J. Wegner
Material:
The colors are water-based, non-toxic and environmentally friendly
Each chair is made of FSCTM certified solid oak
 The seat is hand woven from paper yarn weave
See also the Carl Hansen CH110 desk by Hans J. Wegner.
---
The CH24 Wishbone Chair is probably the most manufactured chair by Carl Hansen. It is a true classic of Scandinavian design. With its simple design and clean lines.
Dimensions CH24
Height 76cm x Width 55cm x Depth 51cm – Seat height 45cm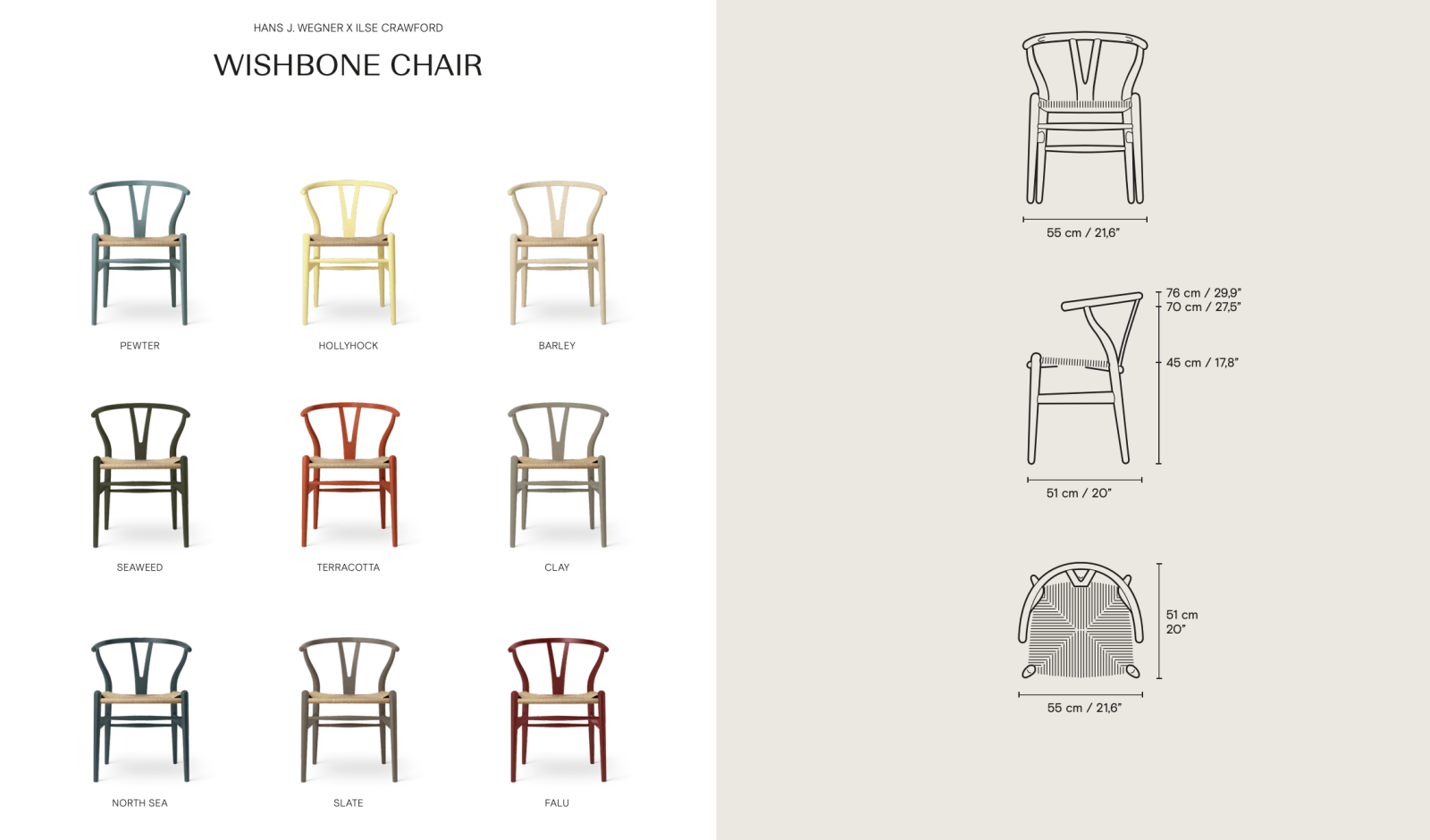 ---
Delivery:
2-4 weeks
---
About Ilse Crawford:
Interior and furniture designer, academic and creative director Ilse Crawford has a mission: to put human needs and desires at the center of everything she does. She brings this philosophy to life at her London-based multidisciplinary studio, Studioilse. She creates environments that people feel comfortable in – from public spaces where people feel at home, to comfortable homes that make sense to those who live in them.
As the founder of the Department of Man and Wellbeing at the Design Academy Eindhoven, Crawford's mission extends to"nurturing a new generation of students to always question why and how their work improves the reality of life."
---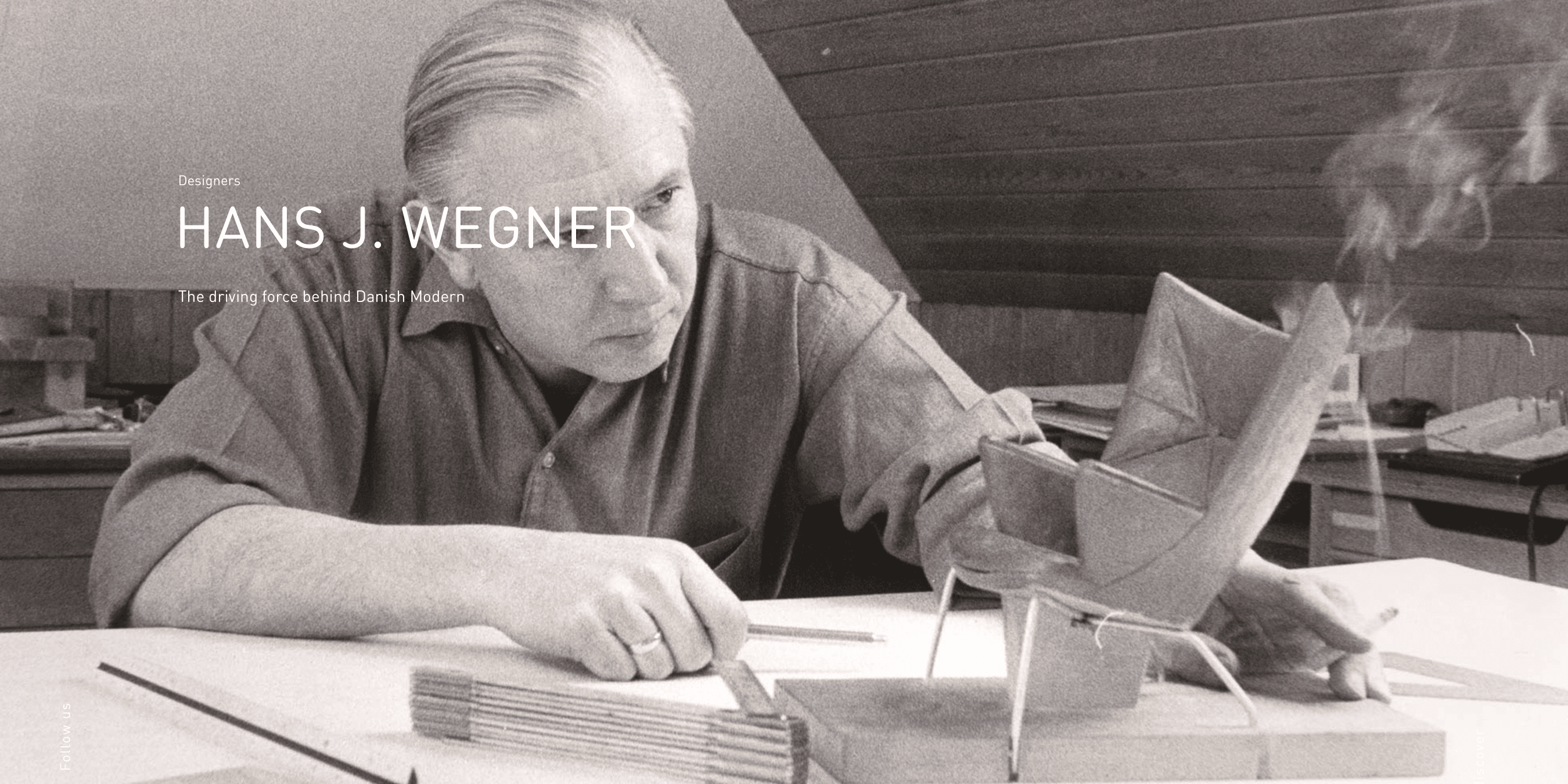 ---
Collaboration between Carl Hansen & Hans J. Wegner:
"If only you could design just one good chair in your life," famed Danish designer Hans Wegner was quoted as saying in 1952. "But you simply cannot.".
The statement made by the man who is considered to be one of the most competent furniture designers in the world seems strikingly paradoxical. However, it is key to understanding Wegner's belief that designing the perfect chair is a task that will never be completed.
Wegner created an abundance of extraordinary pieces of furniture in the course of his life. Its place in design history is largely due to its wide range of chairs, each of which is highly original and completely natural in appearance. Wegner had a great passion for furniture design and was extremely productive. Hundreds of his designs have been made over the years and many are still in production today.
Hans J. Wegner's unique talent was seriously shown in his fruitful collaboration with Carl Hansen & Søn. In 1950, the CH22, CH23, CH24 and CH25 chairs were launched and introduced to design enthusiasts, who received them with great interest.
Today, many of the chairs enjoy cult status. One of them is the 1950 Wishbone Chair, CH24, which is often referred to as "the best wooden chair in the world" and Wegner's best-selling chair.
For generations, Carl Hansen & Sohn has combined traditional wood processing techniques with the latest technology to produce furniture of lasting value.
Nordic urban offers 6 for the price of 5 on CH24 Wishbone chair. Message us for this special offer.
---
---
Important Information:
If you have general questions about Carl Hansen & Søn's products or are interested in a larger order, you can of course contact us directly by email: info@nordicurban.com
Nordic Urban is the official German partner of Carl Hansen & Søn and guarantees the authenticity and quality of each product. In addition to these products, we offer a wide range of Scandinavian furniture, lighting and accessories.
Nordic Urban in Berlin, your expert for Scandinavian design!
---
Additional information
| | |
| --- | --- |
| Dimensions | 80 × 60 × 80 cm |
| Colour | Pewter, Hollyhock, Barley, Seaweed, Terracotta, Clay, North Sea, Slate, Falu |
---