Carl Hansen & Søn – MG501 Cuba Chair Outdoor
5% Discount - reduced in cart

Categories: Brand, Carl Hansen & Son, Chairs, Designers and Architects, Furniture, Lounger and Deck chairs, Outdoor furniture, Products, Spring season
Tags: Carl Hansen, Danish design classics, Frühling, Morten Gøttler, outdoor, outdoor area
The Carl Hansen & Søn – MG501 Cuba Chair Outdoor was designed by Morten Gøttler in 1997. It combines modern design with its ideal balance of form and function.
---
Product Information to Carl Hansen & Søn – MG501 Cuba Chair Outdoor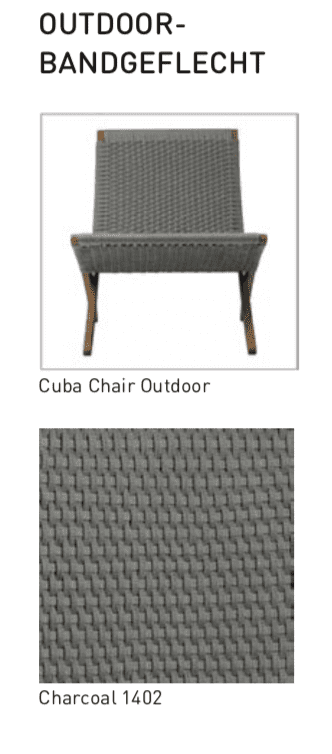 Designer: Morten Gøttler, 1997
Measurements:
Width 61 cm
Depth 79 cm
Height 76 cm
Seatheight 39 cm
Material:
Seat and Backrest:
Outdoor rope in Charcoal 1402
---
---
Delivery:
6-8 weeks
---
---
The brand Carl Hansen & Søn:
Most of the furniture still manufactured by Carl Hansen & Søn today are designs by leading Danish architects from the 1930s to the 1960s. The design, vision and craftsmanship behind every single piece of furniture are just as important today, if not more important than they were then. That is why Carl Hansen & Sohn strives to always work with the best materials and the best designers, both now and in the future.
Carl Hansen & Son feels particularly responsible for supporting the idea of ​​sustainability by making furniture with a long lifespan with wood from sustainable forestry and with the most environmentally friendly treatment possible.
The skilled craftsmen at Carl Hansen & Søn still show the same pride and dedication. This passion ensures consistently high quality for every single piece of furniture that leaves the factory in Aarup.
Behind every single piece of furniture there is a vision, a carefully thought-out concept and professional craftsmanship. That is why it is said that every piece has its own story and that every owner will enjoy making it part of their own story. Carl Hansen & Sohn connects generations and stories with a unique furnishing style.
---
Important Information:
If you have general questions about Carl Hansen & Søn's products or are interested in a larger order, you can of course contact us directly by email:
Nordic Urban is the official German partner of Carl Hansen & Søn and guarantees the authenticity and quality of each product. In addition to these products, we offer a wide range of Scandinavian furniture, lighting and accessories.
Nordic Urban in Berlin, your expert for Scandinavian design!
follow us on Facebook, Instagram, X(twitter)
Related products