Carl Hansen & Søn OW603 Sofa by Ole Wanscher
5% Discount - reduced in cart

The Carl Hansen & Søn – OW603 sofa by Ole Wanscher – Comfortable and elegant, with a clear and dynamic design, the OW603 sofa combines linear and organic forms to create a great modern effect
---
Product Information to Carl Hansen & Søn – OW603 Sofa by Ole Wanscher
Design: Ole Wanscher 1960
Measurements:
Width 214cm
Depth 76cm
Height 80cm
Seatheight 45cm
Material:
Gestell: Solid oak
Treatments:
soaped
oiled
white oiled
lacquered
Upholstery: Seat/Backrest/Cushions: cold foam, down
Leather choice: (Please indicate your wish and color in the end of your order.)
See als the smaller version the OW602 2-Seater by Ole Wanscher.
---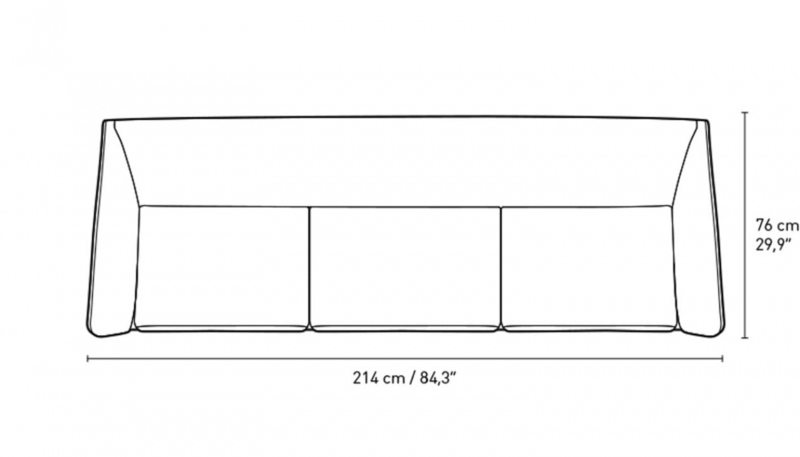 ---
Delivery
6-8 weeks
---
Ole Wanscher and Carl Hansen & Søn:
The Carl Hansen & Søn – OW603 sofa by Ole Wanscherr shows the understanding of the characteristic, simple aesthetics and functionality of the Danish design movement. He was always looking for the ideal furniture constructions
which he then gave a more modern expression. Ole Wanscher's deep respect for materials,
Craftsmanship and functionality are in the foreground.
The OW603 sofa was designed by Ole Wanscher in 1960 as part of a complete living room set. As with many of his other works, Wanscher found the inspiration for this series beyond the borders of his native Denmark by merging elements of classic English and oriental furniture into a new expression.
Comfortable and elegant, with a clear and dynamic design, the OW603 sofa combines linear and organic shapes to create a great modern effect. The sofa is still handcrafted over solid wood frames and carries on Wanscher's legacy of extremely precise craftsmanship.
The two-seater sofa OW603 is also available in a two-seater version, the sofa OW603. Both pieces of furniture have become coveted classics since their introduction in 1960.
---
Important Information:
If you have general questions about Carl Hansen & Søn's products or are interested in a larger order, you can of course contact us directly by email info@nordicurban.com
Nordic Urban is the official German partner of Carl Hansen & Søn and guarantees the authenticity and quality of each product. In addition to these products, we offer a wide range of Scandinavian furniture, lighting and accessories.
Nordic Urban in Berlin, your expert for Scandinavian design!
follow us on Facebook, Instagram, X(twitter)
| | |
| --- | --- |
| Dimensions | 154 × 77 × 80 cm |
| Wood & Treatment | Oak soaped, Oak oiled, Oak lacquered, Oak white oiled |
| Upholstery | Leather group A, Leather group B, Leather group C |
Related products