Carl Hansen & Søn – CH30P Chair
5% Discount - reduced in cart

The Carl Hansen & Søn – CH30P Chair was designed by Hans J. Wegner  in 1954. It unites a high level of comfort with balanced proportions and exceptional craftsmanship
---
Product Information to Carl Hansen & Søn – CH30P Chair:
Designer:
Hans J. Wegner | 1954
Frame: solid wood | Seat: Foam | Back: Veneer
Dimensions:
Width 52 cm x Depth 47 cm x Height 78 cm – Seatheight 46 cm
Material:
Treatment:
Soaped
Oiled
White oiled
Clear lacquered
Black lacquered*
*Oak has a clearly visible wood texture when black lacquered.
Oak/walnut means that the chair frame and cover cap are made of oak and the backrest is made of walnut.
Upholstery: (Fabric name is the link to colours and specifications)
Please specify your choice of fabric/leather and colour in the purchase note at the end of your order.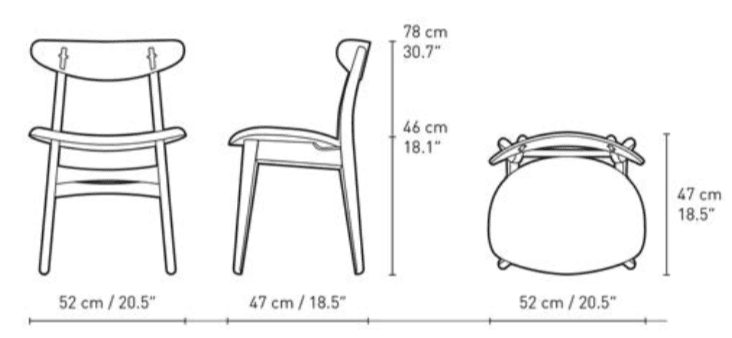 See also the CH23 Chair by Hans Wegner.
---
Delivery:
6-8 weeks
---
Carl Hansen & Søn – CH30P Chair
The Ch30P Chair by Hans J. Wegner was presented  in 1954. The harmonious design embodies his ongoing journey to design the perfect chair. The CH30 dining chair showcases Wegner's signature style. His organic design and exceptional craftsmanship can be seen in sophisticated details such as the cruciform cover caps on the curved, oval backrest that pitches back in line with the rear legs to achieve ultimate comfort.. Combined with the wide, form-pressed padded seat it makes for a chair with a high level of comfort and functionality. As the highly comfortable chair can be tucked under a table, it only takes up limited space which makes it ideal for any modern context. Having been out of production for a number of years, the chair is recreated in close collaboration with Hans J. Wegner's Design Studio. The elegant CH30 chair is produced according to his original working drawing—an extra two centimeters have been added in height to accommodate modern standards. 
---
Important Information:
If you have general questions about Carl Hansen & Søn's products or are interested in a larger order, you can of course contact us directly by email: info@nordicurban.com 
Nordic Urban is the official German partner of Carl Hansen & Søn and guarantees the authenticity and quality of each product. In addition to these products, we offer a wide range of Scandinavian furniture, lighting and accessories.
Nordic Urban in Berlin, your expert for Scandinavian design!
follow us on Facebook, Instagram, X(twitter)
| | |
| --- | --- |
| Weight | 8 kg |
| Dimensions | 98.5 × 57 × 57.5 cm |
| Material | Oak – oiled, Oak – white oiled, Oak – soaped, Oak – clear laccquered, Oak – black lacquered, Walnut – oiled, Walnut – lacquered, Oak/Walnut – oiled, Oak/Walnut – lacquered |
| Seat | Fabric group 1, Fabric group 2, Fabric group 3, Fabric group 4, Leather group A, Leather group B, Leather group C |
Related products