Poul Kjærholm was one of the star architects behind Danish Modern. With a functionalist look at furniture design, Kjærholm cultivated the simple and light design language. As a designer, he also had an eminent ability to combine his favorite material, steel, with other organic materials. Both properties come to the fore in the PK1 in the most beautiful way.
---
Product Information about to Carl Hansen & Son – PK1 Chair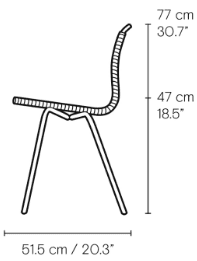 Designer: POUL KJÆRHOLM | 1955 / 2023
Frame: Stainless steel or powder-coated steel: black
Seat/Backrest: natural coloured paper yarn
Measurements:
W 50.5cm
D 51,5cm
H 77cm
Seat hight 47cm
---
Carl Hansen & Søn
Most of todays furniture manufactured by Carl Hansen & Søn is still being milled and polished by hand and was exlusively created by a group of elite danish architectures from the 1930 to 1960. To integrate the design, the vision and the craftmanship into every single furniture is still significant if not even more significant than before. For the same reason Carl Hansen & Sohn's high standard of working with the best materials, the best designers prevails to the present day.
---
Delivery time:
8 – 14 weeks
---
About the Design: Carl Hansen & Søn PK1 Chair by Poul Kjærholm
The Pk1 perfectly captures his hallmarks of functionality and clarity. Poul Kjærholm nowadays is known as one of the most uncompromising furniture designers of a whole generation.  He became one of the finest representatives of modernism in his time. This Chair serves as an outstanding example of Kjærholm's unique ability to realize the full potential of the chosen materials. His search for authenticity and perfection in form, function, and execution are omnipresent. A complex design with a straightforward, minimalist expression, the PK1 dining chair is brought to life through expert craftsmanship.
---
Important Information:
If you have questions about the products by Carl Hansen & Søn or interested in ordering a bigger amount we aks you kindly to contact us directly by mail:
Nordic Urban is the official German partner of Carl Hansen & Søn and is guaranteeing for the quality and authenticity of every products. Besides this product we offer a wide variety of Scandinavian furniture, lighting and accessories.
Nordic Urban in Berlin, your expert for Scandinavian design!
Follow us on Facebook, Instagram, X(twitter)