The Finn Juhl – Circle Rug with its characteristic circular patterns embodies the spirit of the swinging sixties.
---
Product Information to the Finn Juhl – Circle Rug :
Design:1963, relaunched in 2015
Dimensions:
 175 cm x 175cm
245 cm x 175cm
Material: Hand tufted 100% wool, 5000 g per. m2.
Colors:
grey/black
green/orange
blue/navy
beige/nature
Weight: 16/22 kg
See also Pelican Chair by Finn Juhl
---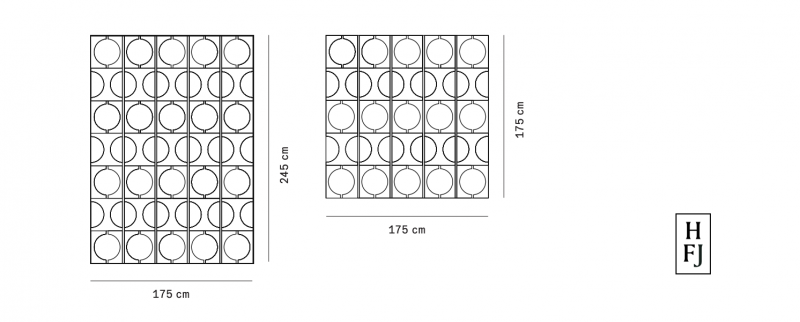 ---
Delivery:
8-10 weeks
---
The Circle Rug Design by Finn Juhl:
In the 1960s, Finn Juhl designed a number of carpet samples for the Danish carpet manufacturer Vittrup, none of which were ever produced. With the ambition of a full range of Finn Juhl designs, it was a logical step to make his carpets with their distinctive circular pattern that led the spirit towards the swinging sixties. The carpets are hand tufted in a wonderfully dense 100% looped wool.
Available in two sizes and produced in four different color combinations – gray / black, green / orange, blue / navy and beige / natural. The carpets are hand tufted in a wonderfully dense 100% looped wool.
---
Important Information:
If you have general questions about House of Finn Juhl's products or are interested in a larger order, you can of course contact us directly by email: info@nordicurban.com
Nordic Urban is the official German partner of House of Finn Juhl and guarantees the authenticity and quality of each product. In addition to these products, we offer a wide range of Scandinavian furniture, lighting and accessories.
Nordic Urban in Berlin, your expert for Scandinavian design!
follow us on  Facebook, Instagram, X(twitter)
| | |
| --- | --- |
| Weight | 25 kg |
| Dimensions | 250 × 50 × 70 cm |
| Size | 175cm x 175cm, 245cm x 175cm |
| Colour | grey/black, green/orange, blue/navy, beige/nature |
Related products