Louis Poulsen Panthella Floor Lamp
5% Discount - reduced in cart

The Louis Poulsen Panthella Floor Lamp is one of the classic designs from Louis Poulsen.The fixture emits a soft and comfortable illumination. The hemispherical shade reflects the light downwards, and the material used ensures that the majority of the light is spread diffusely in the room from the surface of the shade.
---
Product Information about: Louis Poulsen Panthella Floor Lamp
Designer: Verner Panthon
Size: H1305mm x Ø500mm
Material: White opal acrylic
Color: Acrylic Opal
Shade: Injection moulded white opal acrylic.
Cord: Cable length: 2.5m.
Base: White, injection moulded ABS. Housing: White, injection moulded ABS.
Light control: In-line switch with three light levels.
Mounting: Cable type: Plastic cord with plug.  Light control: In-line switch on cord.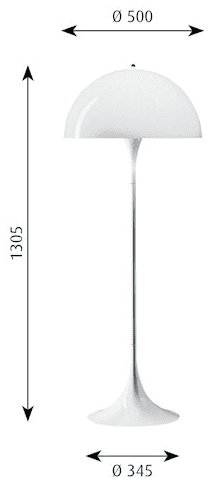 See also: Panthella Mini Table Lamp by Louis Poulsen
---
Delivery time:
1-2 weeks
---
The Design: Panthella Table Lamp
Panthella Table and Panthella Floor were designed by Verner Panton in 1971 and remain one of his most popular light designs. The organic shapes are typical for a Verner Panton design, as were the many strong colours the light was originally available in. Verner Panton wanted to create a light where both the foot and the shade served as a light reflector. The lamp used to be produced in several colours. Today it is available in white.
Verner Panton (1926-1998)
Verner Panton is famous for his inspirational and colorful personality. A unique person with a special sense for color, shape, light function and space.
Over the course of his career, Panton introduced a series of modern lamps with personalities unlike any of his Scandinavian contemporaries.
With remarkable faith in the unlimited possibilities of form, he worked successfully to create a new set of theories about light function and influence.
'The main purpose of my work is to provoke people into using their imagination. Most people spend their lives living in dreary, grey-beige conformity, mortally afraid of using colors. By experimenting with lighting, colors, textiles and furniture and utilizing the latest technologies, I try to show new ways, to encourage people to use their imagination and make their surroundings more exciting'. – Verner Panton
Verner had a very clear attitude regarding his work and regarding shape, color and function. At the same time, he made conscious and brave use of different materials. His use of different materials often led to his contemporaries disparaging the 'timelessness' of his design. The great interest in his design today proves the opposite.
---
Important Information:
If you have questions about the products by Louis Poulsen or interested in ordering a bigger amount we ask you kindly to contact us directly by mail: shop@nordicurban.com
Nordic Urban is the official German partner of Louis Poulsen and is guaranteeing for the quality and authenticity of every products. Besides this product we also offer a wide range of Scandinavian furniture, lighting and accessories.
Nordic Urban in Berlin, your expert for Scandinavian design!
Follow us on Facebook, Instagram, X(twitter)
Related products