Louis Poulsen Panthella Mini Table Lamp
5% Discount - reduced in cart

The Louis Poulsen Panthella Mini Table Lamp is one of the classic designs from Louis Poulsen. The fixture emits a soft and comfortable illumination. The metal version directs the light directly downwards and creates a soft and comfortable illumination due to the inner white painted shade and the reflection from the trumpet shaped stem. The acrylic version leaves a diffuse comfortable light atmosphere due to the colour and the downward reflection from the inner shade.
---
Product Information about: Louis Poulsen Panthella Mini Table Lamp
Designer: Verner Panthon
Size: H335mm x Ø250mm
Material: White opal acrylic, or colored stainless steel.
Color:
Black
White
Pale Pink
Pale Blue
Orange
Acrylic Opal white
Acrylic Opal grey
Coral
Bright Chrome
Metallised Brass
Mounting: Plastic cord. Cable length: 2.5m. LED-driver: Separate, plugs into power outlet.
Light control: In-line switch with three light levels.
The following applies for surfaces white opal acrylic and high lustre chrome plated: Timer function: 4 hours/8 hours. Stepless dim between 15 and 100%. Ingress protection IP20. Electric shock protection II w/o ground.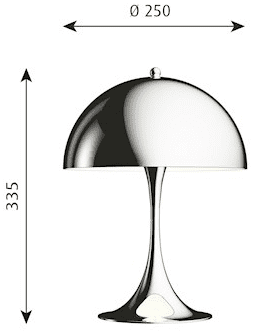 See also: Panthella Table Lamp by Louis Poulsen
---
Delivery time:
1-2 weeks
---
The Design: Panthella Mini Table Lamp
Louis Poulsen now sends the iconic Panthella lamp on the street in a miniature 250mm diameter – against the existing 400mm diameter. Panthella MINI has lacquered metal screens and is available in eight distinctive colors from Verner Panton's own color universe; yellow, orange, purple, red, pink, blue and two green shades. In addition, in white, black and opal acrylic. Mini-Panthella has three light levels and the latest LED technology. It comes on the market from September 2016.
The colors come from Verner Panton's last project just before his death in 1998, 'Light and Color', at Trapholt in Kolding – a total installation with eight rooms in different colors where furniture, lamps and fabrics created by Verner Panton through 50 years were framed in a whole of colors and lights. Colors and imagination were two essential elements of Verner Panton's universe, and Louis Poulsen has chosen Panthella MINI's new colors among the colors that Verner Panton himself chose for the unique universe that formed 'The Light and the Color.'
---
Important Information:
If you have questions about the products by Louis Poulsen or interested in ordering a bigger amount we ask you kindly to contact us directly by mail: shop@nordicurban.com
Nordic Urban is the official German partner of Louis Poulsen and is guaranteeing for the quality and authenticity of every products. Besides this product we also offer a wide range of Scandinavian furniture, lighting and accessories.
Nordic Urban in Berlin, your expert for Scandinavian design!
Follow us on Facebook, Instagram, X(twitter)
| | |
| --- | --- |
| Color | Orange , Black , White , Pale Pink , Pale Blue , Acrylic Opal white , Acrylic Opal grey,  Coral , Bright Chrome, Metallised Brass |
Related products