Mindo – 107 – Coffee Table : a strong teak and aluminium with a stylish ceramic top. Contemporary contrasts between warm and cold, organic and geometrical. Designed in Denmark by Rikke Frost
---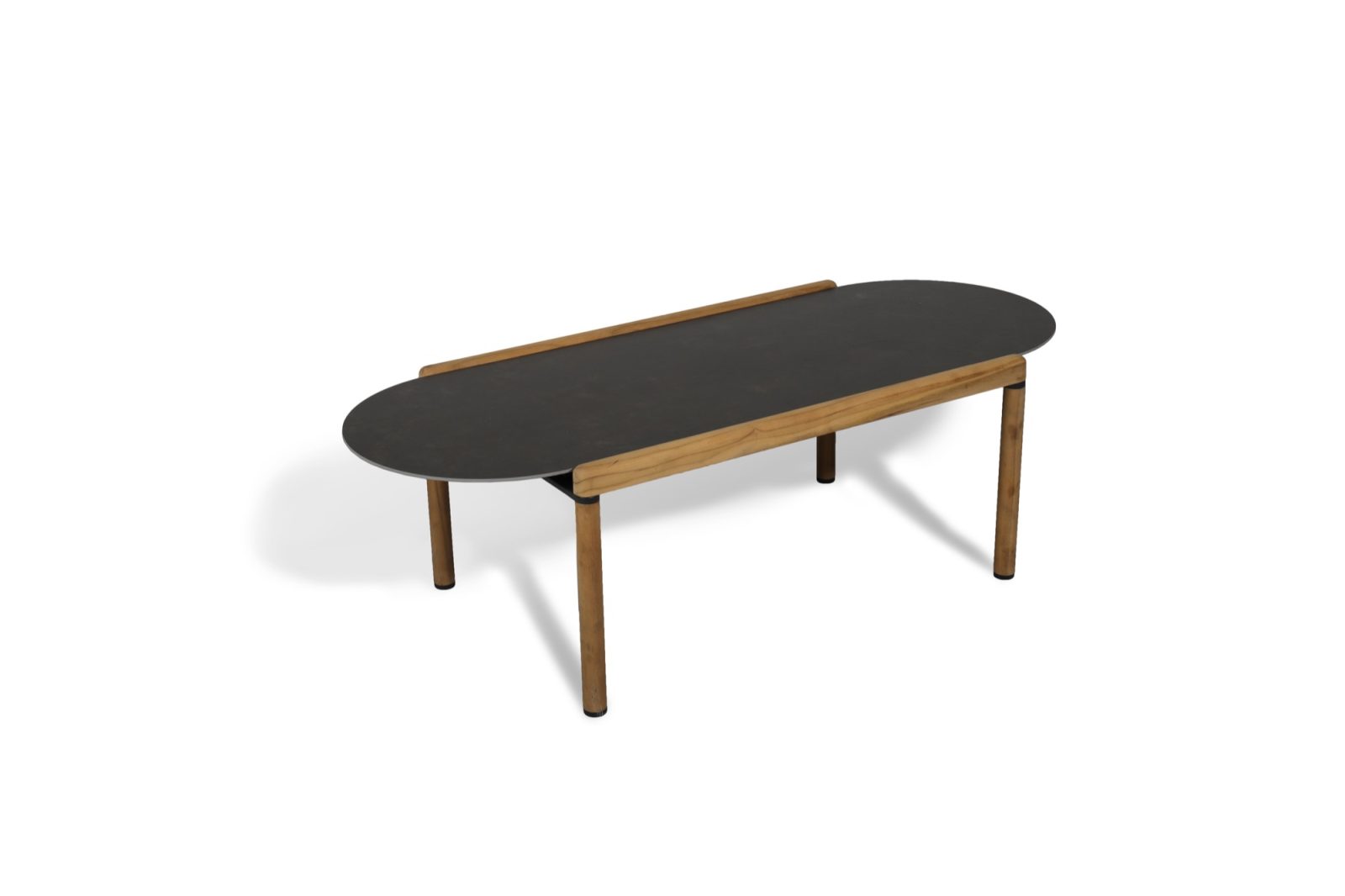 ---
Product Information of the Mindo – 107 – Coffee Table
Design:
Rikke Frost
Dimensions: 
Length 53 cm
Width  126 cm
Height 38.5 cm
Material:
Frame : Aluminium
Top : Teak from certified forests and Ceramic tabletop
Colours:
---
Delivery time:
2-4 Weeks
---
Mindo – 107 Coffee Table by Rikke Frost
Rikke Frost designed the Mindo Coffee table. The profound love for matching materials and soft lines are central for her designs.
Rikke Frost is a Danish graduate from the School of Architecture Aarhus. Since 2004, she has driven her own creative studio in Aarhus based on Nordic simplicity. With particular attention to details, Rikke Frost creates designs that should be seen, felt and touched. The style of Rikke Frost is recognisable and simple, focusing on colour and surprising features that give the experience of a uniform design. Through combinations of materials and exploring their properties, she adds natural applicability.
"I BELIEVE THAT MATERIALS AND THEIR COMBINATION PROVIDE A TACTILE EXPERIENCE AND ARE VISIBLY AND FUNCTIONALLY UNIQUE"
– RIKKE FROST
As an outdoor furniture concept Mindo's focus is on practical outdoor furnishings for everyday use. Their look and feel is warm and welcoming. What is in daily use can be special, and Mindo products are created for special moments with friends and family.
---
Important Information:
If you have questions about the products by Mindo or are interested in ordering a bigger amount we ask you kindly to contact us directly by mail: info@nordicurban.com
Nordic Urban is the official German partner of Mindo and guarantees the quality and authenticity of every product and we also offer a wide range of Scandinavian furniture, lighting and accessories. Nordic Urban in Berlin, your expert for Scandinavian design!
Follow us on Facebook, Instagram, Twitter