Side tables – VIA Copenhagen
5% Discount - reduced in cart

The VIA Copenhagen side tables are a series of four side tables that can be put together to give the living room a more individual and Scandinavian touch. The tables are available in different colors and heights and therefore fit perfectly with any couch or seating area.
---
Product information about the VIA Copenhagen – side table series:
Design: VIA Copenhagen
Materials:
Wood: solid oak
Surface treatment: oak white oil | Oak natural oil | smoked oak
Table surface: solid oak, laminate, linoleum
Variants: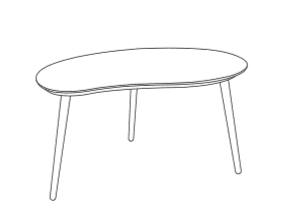 PEAR-92
92 x 66 cm
Heights: 35 cm | 41 cm | 47 cm | 53 cm
OVAL-90
90 x 70 cm
Heights: 35 cm | 41 cm | 47 cm | 53 cm
---
ELLIPSE-120
120 x 60 cm
Height: 35 cm | 41 cm | 47 cm | 53 cm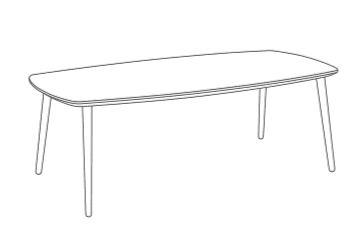 RECTANGULAR-120
120 x 60 cm
Height: 35 cm | 41 cm | 47 cm | 53 cm
Material selection:
Please note: When ordering a table with a solid oak table top, the same surface treatment is chosen as that chosen for the legs.
See also the Fly-Serie from &tradition.
---
Delivery Time:
4 – 8 Weeks
---
VIA Copenhagen – Side tables:
A large solid oak coffee table that makes an excellent standalone coffee table or the perfect partner to a complementary VIA coffee table.
The inspiration for the slightly atypical shape comes, as the name suggests, from a light bulb and the organic shape has gradually become something of a trademark for the entire VIA table series.
Works well on its own, but works best with a smaller VIA board as a companion throughout the journey with its owners.
With its simple Nordic style, VIA side table fits into most interiors, either as a perfect complement or a necessary contrast.
---
Important Information:
If you have general questions about Via Copenhagen products or are interested in placing a larger order, you can of course also contact us directly by email: info@nordicurban.com
Nordic Urban is the official German partner of Via Copenhagen and guarantees the authenticity and quality of all products. In addition to these products, we offer a wide range of Scandinavian furniture, lighting and accessories.
Nordic Urban in Berlin, your expert for Scandinavian design!
follow us on Facebook, Instagram, X(twitter)
| | |
| --- | --- |
| Dimensions | 92 × 66 × 53 cm |
| Model | PEAR-92, OVAL-90, ELLIPSE-120, RECTANGULAR-120 |
| Material Legs | Oak soaped, Oak oiled, Oak white oiled, Oak – smoked |
Related products