---
Beschreibung
Das Finn Juhl – Wall Sofa in seinen surrealistischen skulpturalen Formen in verschiedenen Stoffen erhältlich.
---
Produkt Informationen zum Finn Juhl – Wall Sofa:
Design: Finn Juhl, 1950
Maße:
Breite 192cm
Tiefe 80cm
Höhe 102cm
Sitzhöhe 37cm
Gewicht: 60 kg
Gestell: 
Stahlrohr, pulverbeschichtet in hellgrau
Polsterung:
*Bitte geben Sie am Ende der Bestellung im Kommentarfeld die gewünschte Farbenummer von Ihrem gewählten Stoff (siehe Link/Materialname) an.
Stofftypen und Farben: 
Stoffgruppe 1:
Stoffgruppe 2:
Stoffgruppe 3:
---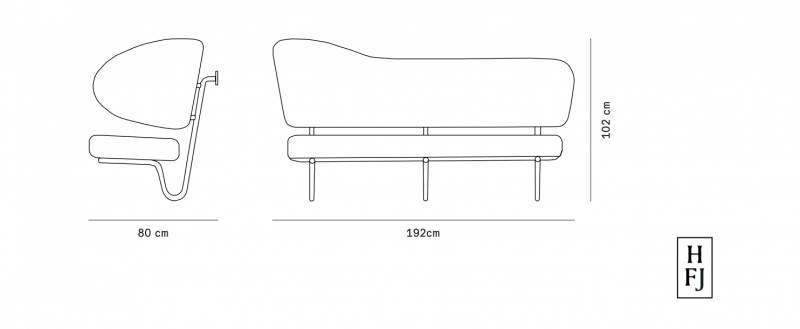 ---
Lieferzeit:
8-10 Wochen
---
Das Wall Sofa Design von Finn Juhl:
Finn Juhl präsentierte dieses Sofa in mehreren seiner Innenarchitekturprojekte wie der Villa Aubertin in Dänemark, die er 1952 entwarf, ebenfalls ausgestellt im Museum Nordenfjeldske Kunstindustri-Museum in Trondheim, Norwegen. Im Museum erhielt er den Auftrag, einen Ausstellungsraum mit modernen Möbeln in Bezug auf das  Kunsthandwerk zu entwerfen, die einen modernen Einrichtungsstil von 1952 repräsentieren.
Das Wall Sofa von 1950 ist nicht nur ein hervorragendes Beispiel für Finn Juhls Inspiration aus der sogenannten freien Kunst seiner Zeit, sondern auch für seinen grenzüberschreitenden Ehrgeiz, der Schwerkraft zu trotzen und Bewegung zu schaffen. Die asymmetrische, übermäßig gepolsterte Rückenlehne schwebt fast wie eine Wolke von René Magritte über der ebenfalls schwebenden Sitzfläche, die von einem fast unsichtbaren Gestell getragen wird. Die ungewöhnlich geformte Rückenlehne ist gut an den Körper angepasst und ermöglicht mehrere bequeme Sitzpositionen.
Das Sofa wird von Hand mit Stoff bezogen. Das lackierte Gestell aus pulverbeschichtetem Stahlrohr ist an der Wand montiert, daher der Name des Sofas.
---
Wichtige Information:
Sollten Sie allgemeine Fragen zu den Produkten von House of Finn Juhl oder Interesse an einer größeren Bestellung haben, so können Sie sich selbstverständlich direkt per Email an uns wenden: info@nordicurban.com 
Nordic Urban ist der offizielle deutsche Partner von House of Finn Juhl und garantiert für die Authentizität sowie Qualität jedes Produktes. Neben diesen Produkten bieten wir eine weitreichende Auswahl skandinavischer Möbel, Beleuchtung und Accesoires an.
Nordic Urban in Berlin, Ihr Experte für skandinavisches Design!
Folgen Sie uns auf  Facebook, Instagram, Twitter
This post is also available in: Englisch
---
Zusätzliche Information
| | |
| --- | --- |
| Gewicht | 60 kg |
| Größe | 220 × 120 × 100 cm |
| Polsterung | Stoffgruppe 1, Stoffgruppe 2, Stoffgruppe 3, Stoffgruppe 4 |
---