Albert de Luxe Sessel – Stouby
Albert de luxe ist eine Weiterentwicklung der klassischen Albert-Serie, die Schlichtheit und Komfort vereint. Albert de luxe hat ein abnehmbares Kissen.
Die Serie umfasst einen Sessel mit hoher Rückenlehne, einen Sessel mit niedriger Rückenlehne und einen Fußhocker.
Das Modell ist mit Leder oder in ausgewählten Stoffen erhältlich.
---
Produktinformation zu Albert de luxe Sessel – Stouby
Designer: Finn Østegaard
Material: Leder oder Stoff

Stoffgrupe 4
Stoffgrupe 6
Stoffgrupe 7
Stoffgrupe 8
Stoffgrupe 9
Stoffgrupe 10
Stoffgrupe 11
Stoffgrupe 12
Stoffgrupe 13
Stoffgrupe 19
Stoffgrupe 20
Ledergruppe 2
Ledergruppe 3
Camo Firenze
Søren Tonsgaard Buffalo
Ledergruppe 4
Ledergruppe 5
Ledergruppe 6
Ledergruppe 7
Ledergruppe 8
Füllung der Kissen: Kaltschaum in Sitz- und Rückenkissen
Variationen: 
Niedriger Stuhl
Hochstuhl (mit passender Nackenstütze)
Hocker
Abmessungen (Hochstuhl)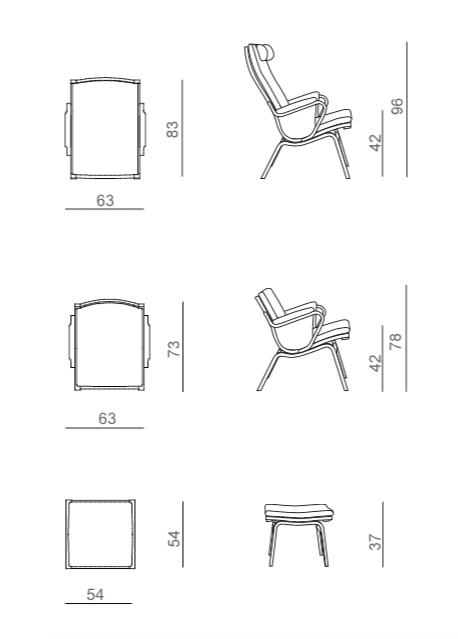 Länge: 63cm
Tiefe: 83cm
Höhe: 96cm
Sitzhöhe:42cm
Abmessungen (niedriger Stuhl)
Länge: 63cm
Tiefe: 73cm
Höhe: 78cm
Sitzhöhe: 42cm
Abmessungen (Fußstütze)
Länge: 54cm
Tiefe: 54cm
Höhe: 37cm
Sitzhöhe: 37cm
Gestell:
Buche geseift oder klar lackiert
Eiche seifenbehandelt
---
Lieferung:
4-6 Wochen.
---
Über Stouby
Alles begann 1902 in einem kleinen Dorf namens Stouby in Mitt-Jütland, Dänemark. Nur ein paar hundert dänische Kronen, ein Stück Leder, der Rahmen einer Chaiselongue und etwas Baumwolle – das war alles, was der Gründer von Stouby Furniture, Marius J. Blirup, für seine ersten Schritte brauchte.
Auch wenn die Anfänge hart und alles andere als perfekt waren, so waren das Know-how und das Talent von Marius J. Blirup umso größer. Er wurde bald zu einem der bekanntesten Designer und stellte seine neuen Kreationen auf dem dänischen Marktplatz "Købestævne" in Frederica aus.
1944 übernahm Stiefsohn Børge Hansen die Leitung von Stouby und blieb eine der größten Möbelmarken in Dänemark und der Welt. Das Unternehmen wuchs noch weiter und begann seine Produkte in die ganze Welt zu importieren – Österreich, England, Kuwait und sogar in die USA.
Siehe auch: Stouby Vincent Sofa & Stouby Vincent Armchair
---
Wichtige Informationen:
Bei Fragen zu den Produkten von Stouby oder Interesse an einer größeren Bestellmenge bitten wir Sie, uns direkt per Mail zu kontaktieren: info@nordicurban.com
Nordic Urban ist der offizielle deutsche Partner von Stouby und garantiert für die Qualität und Authentizität jedes Produkts. Neben diesem Produkt bieten wir eine große Auswahl an skandinavischen Möbeln, Leuchten und Accessoires an.
Nordic Urban in Berlin, Ihr Experte für skandinavisches Design!
Folge uns auf Facebook, Instagram, X(twitter)
Fabric group 4
Fabric group 6
Fabric group 7
Fabric group 9
Fabric group 10
Fabric group 11
Fabric group 12
Fabric group 13
Leather Group 2
Leather Group 3
Camo Firenze
Søren Tonsgaard Buffalo
Leather Group 4
Leather Group 5
Leather Group 6
Leather Group 7
Leather Group 8
Cushion filling: Coldfoam in seat- and back-cushion
Variations: 
Low Chair
High Chair (includes matching neckrest)
Stool
Dimensions (high chair)
Length: 63cm
Depth: 83cm
Height: 96cm
Seat height: 42cm
Dimensions (low chair)
Length: 63cm
Depth: 73cm
Height: 78cm
Seat height: 42cm
Dimensions (footrest)
Length: 54cm
Depth: 54cm
Height: 37cm
Seat height: 37cm
Frame:
Beech soaped treated or clear lacquered
Oak soap treated
See Also: Stouby Vincent Sofa & Stouby Vincent Armchair
---
Delivery:
4-6 Weeks.
---
About Stouby
It all began 1902 in a small village called Stouby in Mitt-Jütland, Denmark. Only a few hundred danish crowns, a bit of leather, the frame of a chaiselonges and some cotton- that is all the founder of Stouby Furniture company Marius J. Blirup needed for his first steps.
Even though the beginning was rough and anything than perfect, the expertise and talent of Marius J. Blirup was even bigger. He soon became one of the most famous designer and was showing of his new creations at the danish marketplace "Købestævne" in Frederica.
In 1944, step son Børge Hansen took over the lead of Stouby and continued to be one of the biggest brands of furnitures in Denmark and the world. The company was growing even further and started to export their products all over the world- Austria, England, Kuwait and even to the US.
---
Important Information:
If you have questions about the products by Stouby or interested in ordering a bigger amount we ask you kindly to contact us directly by mail:
Nordic Urban is the official German partner of Stouby and is guaranteeing for the quality and authenticity of every products. Besides this product we also offer a wide range of Scandinavian furniture, lighting and accessories.
Nordic Urban in Berlin, your expert within Scandinavian design!
Follow us on Facebook, Instagram, X(twitter)
| | |
| --- | --- |
| Gewicht | 10 kg |
| Größe | 70 × 100 × 100 cm |
| Modelle | Niedriger Stuhl, Niedriger Stuhl mit Fußstütze, Hoher Stuhl, Hoher Stuhl mit Fußstütze |
| Holz | Buche geseift, Buche lackiert, Eiche geseift |
| Polsterung | Stoffgruppe 4, Stoffgruppe 6, Stoffgruppe 7, Stoffgruppe 9, Stoffgruppe 10, Stoffgruppe 11, Stoffgruppe 12, Stoffgruppe 13, Leder Gruppe 2, Leder Gruppe 3, Leder Gruppe 4, Leder Gruppe 5, Leder Gruppe 6, Leder Gruppe 7, Leder Gruppe 8 |
Ähnliche Produkte