LoCa KNAX horizontale Garderobe
LoCa Knax Horizontale Garderobe ist perfekt für eine schmale Wand oder wenn der Platz eng ist. Wählen Sie aus mehreren Holzarten und einer großen Farbauswahl. Die Haken sind in schwarz, grau oder messing erhältlich.
---
Produkt Informationen zu LoCa Knax Horizontal Garderobe
Designer: LoCa Design
Variationen: Haken sind in schwarz, grau oder Messing erhältlich
2 Haken: L 19,8cm – H 7,9cm – D 18mm
3 Haken: L 39,6cm – H 7,9cm – D 18mm
6 Haken: L 59,4cm – H 7,9cm – D 18mm
8 Haken: L 79,2cm – H 7,9cm – D 18mm
10 Haken: L 99cm – H 7,9cm – D 18mm
Material:
Buche (lackier, geseift, geölt)
Mahagoni (lackiert, geseift)
Kirsche (lackiert, geölt)
Eiche (lackier, geseift, geölt, geräuchert, schwarz gebeizt)
Walnuss (geölt))
Teak (geölt)
Birke (lakiert, geseift, geölt)
weiß
schwarz
farbig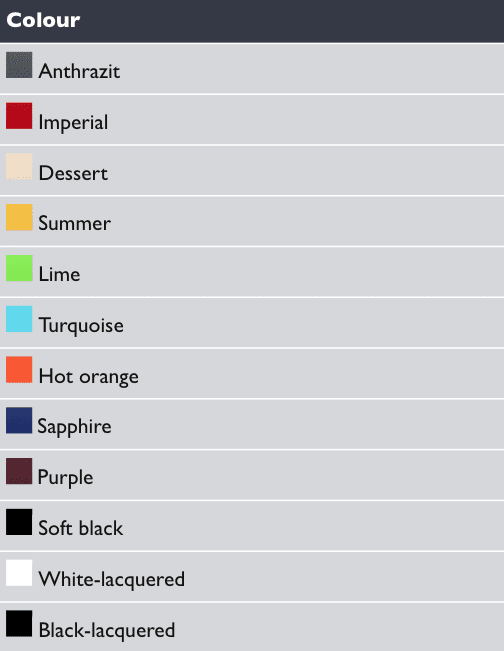 ---
Siehe auch LoCa KNAX Vertical Rack
---
Lieferung:
1-2 Wochen.
---
Über die Marke LoCa
KNAX ist ein zu 100 % dänisches Produkt. Jedes Stück Holz wird handverlesen und selektiert und alle Verarbeitungs- und Produktionsschritte finden in Dänemark statt. Auch in dieser Hinsicht ist die Garderobe einzigartig in einer Branche, in der die meisten Produkte aus Preisgründen in Osteuropa oder Fernost hergestellt werden.
Wir bestehen darauf, hier in Dänemark alles zu tun, um sicherzustellen, dass alle unsere Produkte mit der richtigen Qualität hergestellt werden. Unsere Kunden schätzen die Verarbeitung von KNAX, und da unsere Reaktionszeit so kurz ist, können wir oft weitaus bessere Lieferzeiten und Serviceleistungen anbieten, als wenn wir auf Container aus China warten müssten. Wenn uns ein Hotel anruft und am kommenden Donnerstag um die Lieferung von 100 Garderobenständern bittet – wir schaffen das!
Schau das Video  Here
---
Wichtige Informationen:
If you have questions about the products by LoCa or interested in ordering a bigger amount we ask you kindly to contact us directly by mail: info@nordicurban.com
Nordic Urban ist der offizielle deutsche Partner von LoCa und garantiert für die Qualität und Authentizität jedes Produktes. Neben diesem Produkt bieten wir auch eine große Auswahl an skandinavischen Möbeln, Leuchten und Accessoires an.
Nordic Urban in Berlin, Ihr Experte für skandinavisches Design!
Follow us on Facebook, Instagram, X(twitter)
| | |
| --- | --- |
| Größe | 100 × 10 × 2 cm |
| KNAX | 2 Haken, 4 Haken, 6 Haken, 8 Haken, 10 Haken |
| Material | Buche lackiert, Buche geseift, Buche geölt, Buche, Mahagoni lackiert, Mahagoni geseift, Kirsche lackiert, Kirsche geölt , Kirsche, Eiche lackiert, Eiche geseift, Eiche geölt, Eiche Rauchöl, Eiche schwarz gebeizt, Walnuss geölt, Walnuss Teak geölt, Teak, Birke lackiert, Birke geseift, Birke geölt, Birke, Weiß lackiert, Schwarz lackiert, Anthrazit, Imperial, Dessert, Summer, Lime, Turquoise, Hot Orange, Sapphire, Lila, Soft Black  |
| Haken | Schwarz, Grau, Messing |