&Tradition Fly Chair SC1 Design Your Own
5% Discount - reduced in cart

The &Tradition – Fly Chair SC1 – Design Your Own from the Fly Series by Space Copenhagen is one of a lounge collection made up of sofas, armchairs, tables and a pouf.
---
Product information about &Tradition – Fly Chair SC1 – Design Your Own:
Design: Space Copenhagen – 2013
Material: Oak
Treatments:
Oiled Oak
Smoked Oak oiled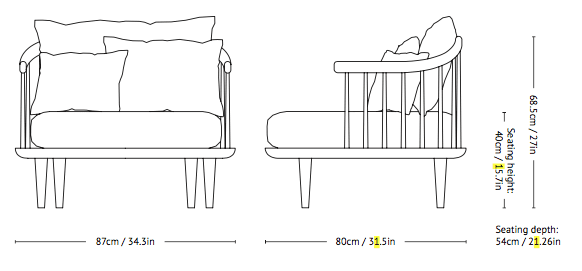 Measurements:
W 87cm / 34.3in
D 80cm / 31.5in
H 68,5cm / 27in
Seat depth 54cm / 21.26in
Seat height:
Fly Low – 40cm
Fly High – 46cm
Fabrics:
Please leave the fabric color number as comment in your order.
More fabrics are available upon request.
Contact us by mail or come by our showroom in Berlin Mitte.
Extra: Pouf
---
Delivery time:
8 weeks
This chair comes in 5 standard designs with a delivery time on only 4 weeks.
See the Fly Chair SC1
---
The Fly Design and its Designer Space Copenhagen:
Pushing the idea of lounging to its fullest, Fly is a series that allows the user to sit, lie, rest, and relax. Unlike many of the sofas and easy chairs in Scandinavian design history, Fly does not impose any particular posture onto the sitter. The seat itself is optimised for comfort, with loose cushions for the back that can be arranged according to the user's own needs. But Fly adheres to tradition in other respects; the frame of the sofa and armchair, with a slatted back rest, is made from solid oak, treated with white pigmented oil or smoked oil. It is the type of material and treatment that ages with true grace, only becoming more beautiful with time. Space Copenhagen gathers much of their inspiration from travels abroad, often in the form of ambience and mood. An example could be as simple as a particular wall in the streets of SoHo, New York, the distressed look of which makes its way into Space Copenhagen's imagination. 
---
Important Information:
If you have questions about the products by &Tradition or interested in ordering a bigger amount we ask you kindly to contact us directly by mail: shop@nordicurban.com
Nordic Urban is the official German partner of &Tradition and is guaranteeing for the quality and authenticity of every products. Besides this product we also offer a wide range of Scandinavian furniture, lighting and accessories.
Nordic Urban in Berlin, your expert for Scandinavian design!
Follow us on Facebook, Instagram, X(twitter)
| | |
| --- | --- |
| Weight | 35.1 kg |
| Dimensions | 90 × 85 × 60 cm |
| Treatment | Smoked Oak, Smoked Oak oiled |
| Fabric | Fabric gr. 1, Fabric gr. 2, Fabric gr. 3, Fabric gr. 4 |
| Legs | Fly – low 40cm, Fly – high 46cm |
Related products