Carl Hansen & Søn – AJ52 Society Table Desk
SKU:

N/A
Categories: Arne Jacobsen, Carl Hansen & Son, Collectors Items, Designers and Architects, Desks, Dining Tables, Furniture, Products
Tags: Arne Jacobsen, Carl Hansen, Danish design classics, Desk, Homeoffice
The Carl Hansen & Søn – AJ52 Society Table Desk was designed by Arne Jacobsen in 1952. It is a timeless example of the functionalist design approach of Danish architects.
---
Product Information to Carl Hansen & Søn – AJ52 Society Table Desk
Designer: Arne Jacobsen 1952 
Dimensions:
Desk:
Width 140 / 160  cm
Depth 70 cm
Height 72 cm
Table compartment with lamp:
Tabletop:
Freja Leather in brown or black
Frame: Stainless steel | Feet: solid wood | Drawers: solid wood, veneer
Treatment: lacquered, oiled, white oiled, black lacquered
Oak has a clearly visible wood structure when painted.
Feet and drawers are always made of the same type of wood with the same surface treatment. The drawer module can be mounted on the left or right side of the table.
See also the  Arne Jacobsen Tischuhr.
---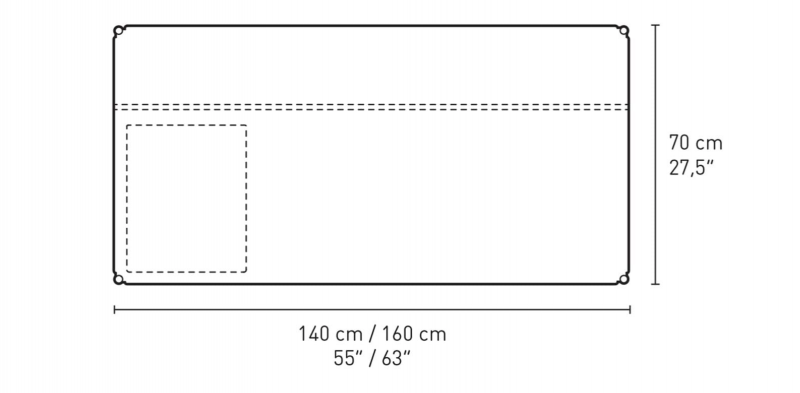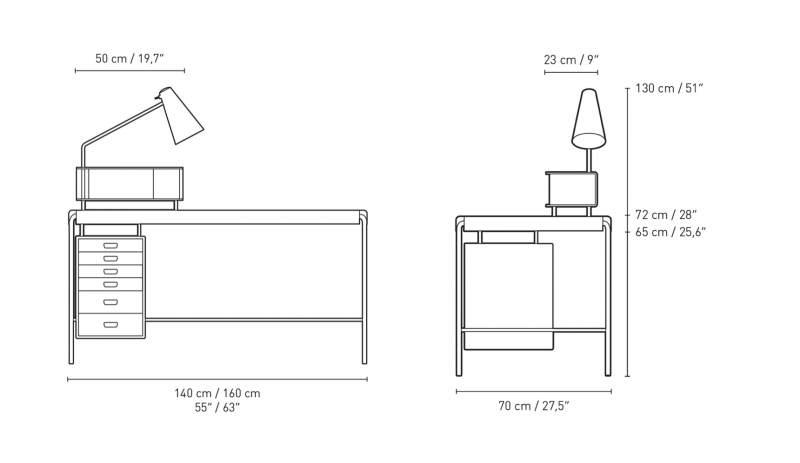 ---
Delivery:
6-8 weeks
---
The AJ52 Design by 
Arne Jacobsen
The desk impresses with its leather-covered table top, the slim tubular frame and the eye-catching solid wood drawers. Arne Jacobsens and his AJ52 Society Table is just as popular today as it was in 1952, when it was commissioned as a gift for the American-Scandinavian Foundation. The extremely slim desk has a drawer element with six drawers in different designs. The table is available in two sizes – the smaller of the two measures L 140cm x D 70 cm. The conical stainless steel lamp as well as the wooden cabinet with glass front is the perfect complement as an optional lamp module and is coordinated with letters and envelopes.
The AJ52 desk is a timeless example of the functionalist design approach of Danish architects. Arne Jacobsen relied on new techniques and materials to create the slim desk. The fine, structured leather panel, which hugs a tubular metal frame, the conical desk lamp made of brushed stainless steel and the letter compartment made of wood and veneer seamlessly continue this timeless design.
---
The brand Carl Hansen & Søn:
Most of the furniture still manufactured by Carl Hansen & Sohn today are designs by leading Danish architects from the 1930s to the 1960s. The design, vision and craftsmanship behind every single piece of furniture are just as important today, if not more important than they were then. This is why Carl Hansen & Sohn strives to always work with the best materials and the best designers, both now and in the future.
Carl Hansen & Son feels particularly responsible for supporting the idea of ​​sustainability by manufacturing furniture with a long lifespan with wood from sustainable forestry and with the most environmentally friendly treatment possible.
The skilled craftsmen at Carl Hansen & Søn still show the same pride and dedication. This passion ensures consistently high quality for every single piece of furniture that leaves the factory in Aarup.
Behind every single piece of furniture there is a vision, a carefully thought-out concept and professional craftsmanship. That is why it is said that every piece has its own story and that every owner will enjoy making it part of their own story. Carl Hansen & Sohn connects generations and stories with a unique furnishing style.
---
Important Information:
If you have general questions about Carl Hansen & Søn products or are interested in a larger order, you can of course contact us directly by email: info@nordicurban.com 
Nordic Urban ist der offizielle deutsche Partner von Carl Hansen & Søn und garantiert für die Authentizität sowie Qualität jedes Produktes. Neben diesen Produkten bieten wir eine weitreichende Auswahl skandinavischer Möbel, Beleuchtung und Accesoires an.
Nordic Urban in Berlin, Ihr Experte für skandinavisches Design!
Folgen Sie uns auf  Facebook, Instagram, X(twitter)
| | |
| --- | --- |
| Dimensions | 160 × 85 × 75 cm |
| Leathertop | Freja 2002 black, Freja 2068 brown |
Related products