Carl Hansen & Søn – BM5568 Outdoor Deck Chair
5% Discount - reduced in cart

The Carl Hansen & Søn – BM5568 outdoor deck chair by Børge Mogensen was originally developed for his home balcony in the 1960s and will be reintroduced in 2020. With its folding function and angled frame, the BM5568 deck chair offers an inviting, honest and relaxed expression in untreated, FSC ™ -certified teak.
---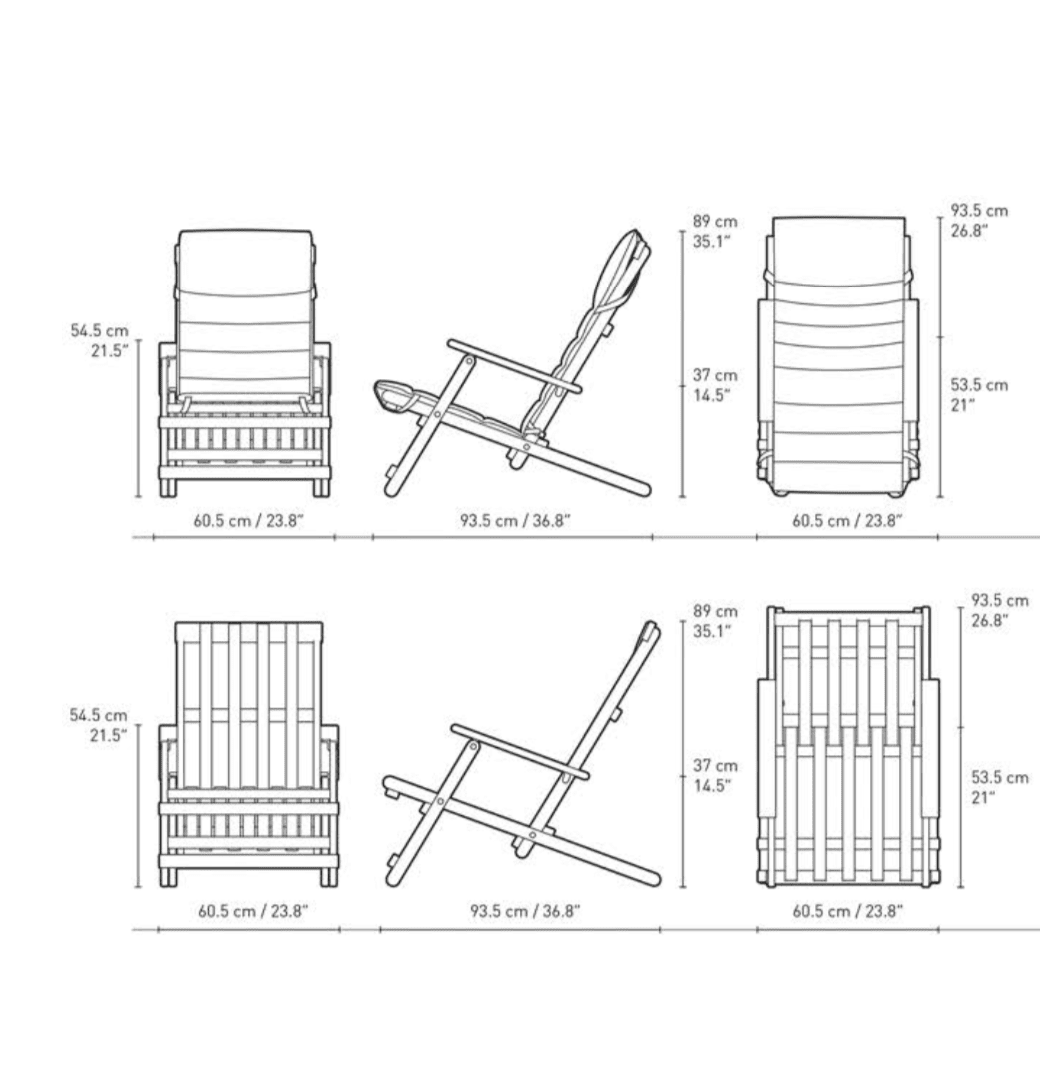 The Carl Hansen & Søn – BM5568 outdoor deck chair
Design: Børge Mogensen, 1968 / 1970
Measurements:

width 60,5 cm
depth 93,5 cm
height 89 cm

Material:
 solid Teak untreated FSC ™ -certified
Seat cushion  in Heritage Papyrus
---
Description:
The Carl Hansen & Søn – BM5568 Outdoor Deckchair – functional and flexible – is equipped with a spacious, adjustable seat and an angled frame for comfort and offers the option of adding an upholstered fabric cushion for additional support. When not in use, it can be folded flat and stowed away or hung on a wall as a decorative feature.
see also the BK outdoor series by Carl Hansen
BK15-Tisch or BK11 Lounge Sessel
---
Delivery
4-6 weeks
---
---
Carl Hansen & Søn
Most of the furniture that Carl Hansen & Søn still produces today is designed by leading Danish architects from the 1930s to the 1960s. The design, vision and craftsmanship behind every piece of furniture are still there today
just as important, if not more important than then. That is why Carl Hansen & Sohn strives to always work with the best materials and the best designers, both now and in the future.
---
Important Information:
If you have general questions about Carl Hansen & Søn's products or are interested in a larger order, you can of course contact us directly by email: info@nordicurban.com Nordic Urban is the official German partner of Carl Hansen & Søn and guarantees the authenticity and quality of each product. In addition to these products, we offer a wide range of Scandinavian furniture, lighting and accessories. Nordic Urban in Berlin, your expert for Scandinavian design! follow us on  Facebook, Instagram, X(twitter)
Related products