Carl Hansen & Søn – VLA26 Vega Chair
5% Discount - reduced in cart

SKU:

VLA26
Categories: Armchair, Brand, Carl Hansen & Son, Chairs, Designers and Architects, Furniture, Hans J. Wegner, Products
Tags: Carl Hansen, Carl Hansen & Søn, chair, dining chair, Hans J Wegner, Lehnstuhl, Wegner
This stackable chair appears in an elegant mix of steel, wood and textile or leather, with precise upholstery on the seat and back that gives it a slender and refined look.
---
Product Information to Carl Hansen & Søn – VLA26 Vega Chair:
Design: Vilhelm Lauritzen
Material:
Fabric group 1
Fabric group 2
Fabric group 3
Fabric group 4
Leather:
Loke,   leather group A
Thor,   leather group B
Sif,      leather group C
See also the Carl Hansen CH110 desk by Hans J. Wegner.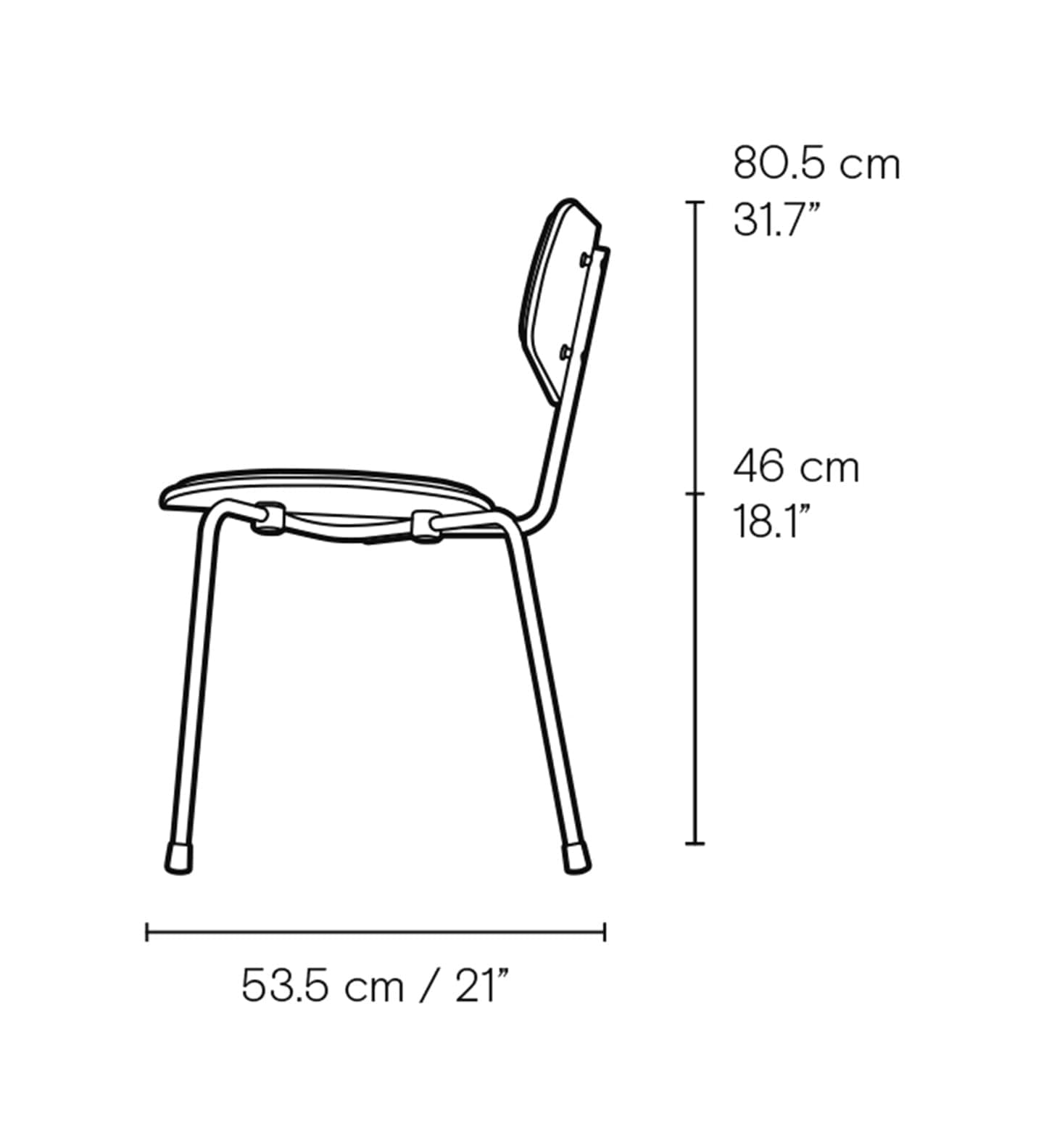 Dimensions VLA26
Height 80.5cm x Width 56cm x Depth 53.5cm – Seat height 46cm
---
Vega:
Danish architect Vilhelm Lauritzen created modernist masterpieces in which everything was considered down to the smallest detail – such as the music venue Vega, for which he designed the VLA26 Vega Chair. Previously only found in Vega's historic concert halls, the Vega Chair is now being put into production by Carl Hansen & Søn in partnership with Vilhelm Lauritzen Architects.
"The VLA26 Vega Chair is Danish design at its best. It showcases Vilhelm Lauritzen's signature style – a functionalist design that is almost effortlessly simple, but still with a very clear character. Not only does it have Lauritzen's uncompromising sense of detail, but the chair is so well proportioned that it's simply very comfortable to sit on."
-Anne Møller Sørensen, Partner at Vilhelm Lauritzen Architects
---
Delivery:
2-4 weeks
---
Vilhelm Lauritzen  (1894 – 1984) :
Vilhelm Theodor Lauritzen was one of Denmark's most important architects and a father of Danish Modernism. Today, many of his projects remain as lasting examples of what was then a new and revolutionary approach to architecture in which form followed function. Throughout his career, he maintained that architecture should be an applied art that serves all, not just the privileged few. Lauritzen's talents extended to interior design. Over the course of his career, he created everything from door handles, ashtrays and railings to lamps, sofas and chairs. In 1922, he founded Tegnestuen Vilhelm Lauritzen which is known today as Vilhelm Lauritzen Architects
---
Important Information:
If you have general questions about Carl Hansen & Søn's products or are interested in a larger order, you can of course contact us directly by email: info@nordicurban.com
Nordic Urban is the official German partner of Carl Hansen & Søn and guarantees the authenticity and quality of each product. In addition to these products, we offer a wide range of Scandinavian furniture, lighting and accessories.
Nordic Urban in Berlin, your expert for Scandinavian design!
Folgen Sie uns auf  Facebook, Instagram, X(twitter)
| | |
| --- | --- |
| Dimensions | 80 × 60 × 80 cm |
| Eiche | Klarlack Öl, Weißöl, Rauchfarbiges Öl, Schwarz |
| Material | Stoffgruppe 1, Stoffgruppe 2, Stoffgruppe 3, Stoffgruppe 4, Ledergruppe A, Ledergruppe B, Ledergruppe C |
Related products