Carl Hansen & Son – CH88P Chair
5% Discount - reduced in cart

The Carl Hansen & Søn CH88P was reintroduced as a celebration of Hans J. Wegner's100th birthday. Carl Hansen & Søn has put the CH88 in production for the first time since the chair was originally designed by Wegner back in 1955.
---
Product Information about to Carl Hansen & Son – CH88P Chair
Designer: HANS J. WEGNER | 1955
Material back rest:
Oak Wood treatment or Black Luster 20 available (NCS S9000-N)
Beech Wood treatment or CHS soft Colours Color brilliance 5 / Black Luster 20 available (NCS S9000-N)
Frame base:
Treatments:
Soaped
Lacquered
Oiled
White oiled
Black Lacquered
Smoked Oak (upon Request)
Specifications:
Seat:  cold foam CMHR – in fabric or leather
Back: Solid Wood
Mesurements:
W 57cm D 45cm H 77cm Seat hight 45cm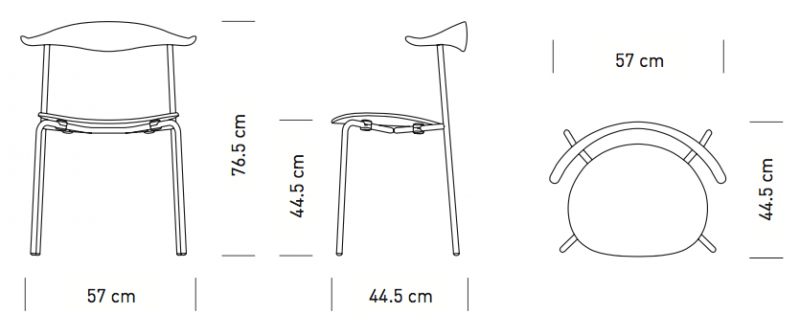 Upholstery:
Fabrics:
Fabric group 1:
Fabric group 2:
Fabric group 3:
Fabric group 4:
Leather:
Please add fabric Type and Colors No. / Leather color No. as well as the desired frame color with no. as a comment in the shopping cart.
---
Delivery time:
6-8 weeks
---
Carl Hansen & Søn
Most of todays furniture manufactured by Carl Hansen & Søn is still being milled and polished by hand and was exlusively created by a group of elite danish architectures from the 1930 to 1960. To integrate the design, the vision and the craftmanship into every single furniture is still significant if not even more significant than before. For the same reason Carl Hansen & Sohn's high standard of working with the best materials, the best designers prevails to the present day.
---
---
About the Design: Carl Hansen & Søn CH88P by Wegner
The CH88 chair in terms of expression and application. The characteristic upper part of the chair has a steam-bent cup piece of wood for support in the back. A small sway at the ends of the cuppiece allows the arms to rest. Legs in steel with straight hind legs and an oval-shaped seat. The mix of materials combined with a minimalist design language gives at the same time organic, industrial and a light expression.  The chair tis stackable. The CH88 is available in beech, oak and smoked oak in various fabrics and leathers in various colors. Frame is optional available either in stainless steel or powder coated steel. The seat is available with and without upholstery in pigeon leather or textile.
---
Important Information:
Offer from Nordic Urban: When purchasing a set of 6 chairs, you receive a discount on the value of 1 chair of the same model or the cheapest variant. Please contact us by e-mail with your request so that we can make you an offer including delivery.
If you have questions about the products by Carl Hansen & Søn or interested in ordering a bigger amount we aks you kindly to contact us directly by mail:
Nordic Urban is the official German partner of Carl Hansen & Søn and is guaranteeing for the quality and authenticity of every products. Besides this product we offer a wide variety of Scandinavian furniture, lighting and accessories.
Nordic Urban in Berlin, your expert for Scandinavian design!
Follow us on Facebook, Instagram, X(twitter)
| | |
| --- | --- |
| Dimensions | 60 × 60 × 90 cm |
Related products