&Tradition – Journey Table & Wall Lamp
5% Discount - reduced in cart

The &Tradition – Journey Table & Wall Lamp is a lovely merging of two classic geometric shapes, the sphere and the rectangle.
---
Product Information about &Tradition – Journey Table & Wall Lamp:
Designer: Signe Hytte
Journey SHY1 – table/wall
Material:
Base:
Dimmer:
 Shade:
Cable
Specifications: 
4.8 Watt LED
Light Output: 480 Lumen
Dimmer on Base
The built-in LEDs cannot be changed in this luminare.
Journey SHY2 – wall
Material:
Base:
Shade:
Hardwired for wall mounting
Specifications:
G9 bulb max. 33W
The luminaire is compatible with bulbs of the energy classes: A++ – A.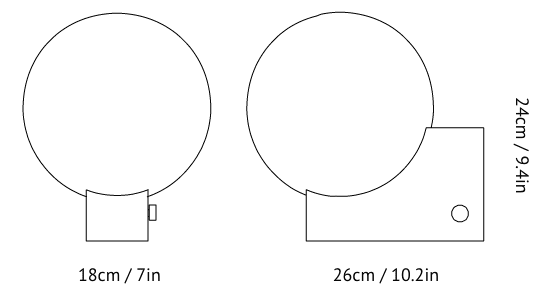 Measurements: 
Length 26cm / 10.2in
Width 18cm / 7in
Height 24cm / 9.4in
---
Delivery time:
1-2 weeks
---
About The Design &Tradition – Journey Table & Wall Lamp
The round, opal glass shade is reminiscent of the moon, with a new dimmer feature to enhance your mood and sense of well-being. Journey is both a table lamp and a wall lamp, with subtle colour combinations that make it easy to place anywhere. There is the mirrored chrome base with a chrome dimmer for a monochromatic look. A matt black base with a brass dimmer. Whether the moon is full or not, the intention is for you to enjoy the design and all the moods you can create. 
---
Important Information:
If you have questions about the products by &Tradition, the Journey SHY 1 Table & Wall Lamp by &Tradition or interested in ordering a bigger amount we ask you kindly to contact us directly by mail: shop@nordicurban.com
Nordic Urban is the official German partner of &Tradition and is guaranteeing for the quality and authenticity of every products. Besides this product we also offer a wide range of Scandinavian furniture, lighting and accessories.
Nordic Urban in Berlin, your expert for Scandinavian design!
Follow us on Facebook, Instagram, X(twitter)
| | |
| --- | --- |
| Base | Black, Clay, Silk grey |
| Setup | Kable, Hardwired |
Related products