&Tradition – LATO Sidetable Wood Tabletop
5% Discount - reduced in cart
---
Description
The &Tradition – LATO Sidetable Wood Tabletop is a simply a unique & rare example of excellent design. At first glance, Lato resembles a sculpture, with its slim, oval or round table top balanced by an oval-shaped base.
---
Product Information about &Tradition – LATO Sidetable Wood Tabletop:
Design: Luca Nichetto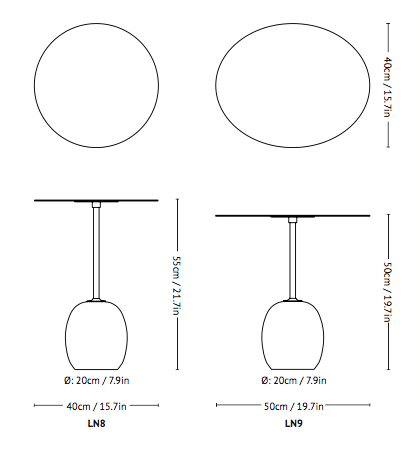 Material:
Marble and powder coated steel and lacquered veneer
Color: 
Warm black & Emparador marble with walnut veneer lacquered
Ivory white & Crema Diva marble with oak veneer lacquered
Size: 
LN8 – Ø 40cm – H 55cm
LN9 – oval 40x50cm – H 50cm
---
Delivery time:
1-2 weeks
---
The LATO Design by Luca Nichetto:
Striking, graphic and poetic, its purity of form is proof that simple is sophisticated. The initial inspiration for Lato started with the idea of a lollipop turned upside down. A classic shape from a candy most people recognise from childhood. But how do you turn a lollipop into a table? "Growing up on an island like Murano, I was surrounded by creativity," explains Nichetto. "Artisans with an immense knowledge and love of materials, who I watched transform abstract concepts into concrete reality. With Lato, I wanted to keep the simplicity and streamline it into a timeless side table in a style that could easily be the centre of attention." Enjoy this stunning example of a sculpture that's a side table – and vice versa.
---
Important Information:
If you have questions about the products by &Tradition or interested in ordering a bigger amount we ask you kindly to contact us directly by mail: shop@nordicurban.com
Nordic Urban is the official German partner of &Tradition and is guaranteeing for the quality and authenticity of every products. Besides this product we also offer a wide range of Scandinavian furniture, lighting and accessories.
Nordic Urban in Berlin, your expert for Scandinavian design!
---
Additional information
| | |
| --- | --- |
| Weight | 19 kg |
| Dimensions | 70 × 50 × 40 cm |
| Table | LN8, LN9 |
| Color | Emparador marble and walnut veneer, Crema Diva marble and oak veneer |
---