Boomerang and BOW Desk – VIA Copenhagen
5% Discount - reduced in cart

SKU:

N/A
Categories: Brand, Furniture, Products, VIA COPENHAGEN
Tags: danish design, Danish furniture, Desk, laminate surface, office, Office desk, Office furniture, Solid wood, Via Copenhagen
The Boomerang and Bow Desks from VIA COPENHAGEN, is beautiful and simple desks that fits into every work environment, the family living room, the home office or children's room. To make the table stand out you can choose a colourful laminate or linoleum for the desktop surface, if wished.
---
Product Information of Boomerang and BOW Desks – VIA Copenhagen
Design: Via Copenhagen
Material:
Wood: Solid Oak
Surface treatment: Oak white oil | Oak natural oil | Oak Smoked
Table top surface: Solid Oak, Laminate, Linoleum
Models:
The BOW Desk
w. cable hole
BOW-120
Height: 74cm, depth:  120cm, width: 60cm
Weight: 20kg
---
BOW-140
Height: 74cm, depth: 140cm, width: 70cm
Weight: 25kg
The BOOMERANG Desk
BOOMERANG-120
Height: 74cm, depth:  120cm, width: 60cm
Weight: 20kg
---
BOOMERANG-140
Height: 74cm, depth: 140cm, width: 70cm
Weight: 25kg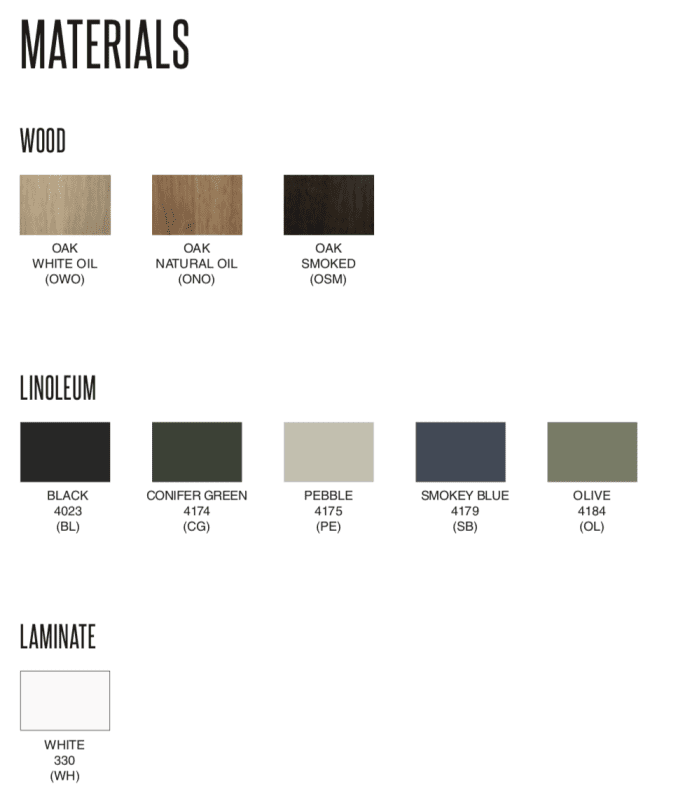 When ordering a table with linoleum surface, please specify Colour name and number when ordering. 
See also the Fly Series by &tradition.
---
Delivery:
6 – 8 Weeks
---
Boomerang and Bow desk's – Information:
Its light expression is spiced up with beautiful details and materialistic honesty.  Boomerang table becomes a part of the décor of your home as a unique and inviting place for immersion. The main attraction of the table is the profile of the edge which is shaped like a boomerang as we know it from ancient Australian traditions. The edge nicely frames this solid oak table and the transition from edge to top is silky soft for that optimum "Feel Good" feeling when touched. A solid edge also means a much longer life as, in the event of damage, the edge can always be repaired.
This desk is made with a contour which adds something aesthetic to the table and provides increased arm support for users who sit and work at the table a lot.
Additional information to the BOW desk:
Usually, a desk means leads from either a computer, a charger or a lamp and we have, thus, added a cable hole to the right in the tabletop which is finished in the same way as the rest of the table, namely in solid oak.
---
Important Information:
If you have general questions about the products of Via Copenhagen or are interested in a larger order, you can of course contact us directly by email: info@nordicurban.com
Nordic Urban is the official German partner of Via Copenhagen and guarantees the authenticity as well as quality of every product. Besides these products we offer a wide range of Scandinavian furniture, lighting and accessories.
Nordic Urban in Berlin, your expert for Scandinavian design!
Follow us on Facebook, Instagram, X(twitter)
| | |
| --- | --- |
| Weight | 25 kg |
| Dimensions | 70 × 140 × 74 cm |
| Tabletop Surface | Solid Oak, Laminate, Linoleum |
| Wood | Oak white oil, Oak natural oil, Oak Smoked |
| Desk model | BOW-120, BOW-140, BOOMERANG-120, BOOMERANG-140 |
Related products