Louis Poulsen – PH5 Pendant
5% Discount - reduced in cart

The Louis Poulsen – PH5 Pendant light, designed in 1958 by Poul Henningsen, is one of the most famous lamps in Scandinavian design.
---
Product Information about the Louis Poulsen – PH5 Pendant:
Design: Poul Henningsen
Dimensions: Hight 26,7cm – Ø 50cm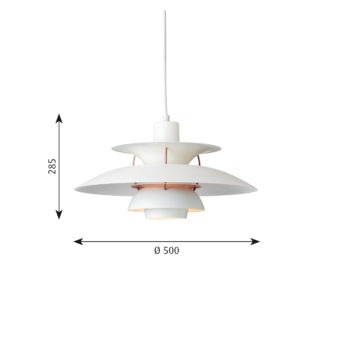 Finish:
Hues of Blue
Hues of Green
Hues of Orange
Hues of Red
Hues of Rose
Hues of Grey
Copper
Brass
Monochrom Blue
Monochrom Black
Monochrom Pale Pink
Monochrom Oyster Grey
Pastell Blau Rosa Peach
Pastell Austerngrau Blue Rosa
Also available in white
Details:
Drawn aluminum
Connecting rods: copper
Cable: textile cable white – 3m
canopy is included
light source: E27 socket
See also the PH5 MINI by Poul Henningsen.
---
Delivery time:
1-2 weeks
---
The Design PH5 by Poul Henningsen
The PH5 design by Poul Henningsen:
Poul Henningsen designed the luminaire in 1958 based on the principle of a reflective three-shade system that incorporates the
most of the light is directed downwards. His wish was to create a light that spreads light throughout the room but does not dazzle. He succeeded with the now produced by Louis Poulsen PH5 pendant lamp.
The luminaire emits light directed downwards and, thanks to the trumpet-shaped top screen, to the side, which causes the switched-on luminaire to illuminate the area around it as well as itself. In the classic PH5, a warm light color is achieved through the inner red cone and the small blue reflector.
---
Important Information:
If you have general questions about Louis Poulsen products or if you are interested in a larger order, you can of course contact us directly via email: shop@nordicurban.com
Nordic Urban is the official German partner of Louis Poulsen and guarantees the authenticity and quality of every product. In addition to these products, we offer a wide selection of Scandinavian furniture, lighting and accessories.
Nordic Urban in Berlin, your expert for Scandinavian design!
Follow us on Facebook, Instagram, X(twitter)
| | |
| --- | --- |
| Dimensions | 60 × 60 × 20 cm |
| Farbe | Hues of Rose , Hues of Grey , Hues of Orange , Hues of Red , Hues of Green , Hues of Blue , Copper , white Modern , White Classic , Brass , Monochrom Blue , Monochrom White , Monochrom Black , Monochrom Pale Pink , Monochrom Oyster Grey , Pastell Blue Rosa Peach , Pastell Oyster Gray Blue Pink |
Related products