EAT Dining Table Rectangular VIA Copenhagen
5% Discount - reduced in cart

VIA Copenhagen – EAT Dining Table – Rectangular
A rectangular dining table available in 3 sizes and with optional end-extension or center-extending panels, with a variety of surface choices. Well suited for dining rooms or kitchen living room. This table truly defines the character of a room and can be a natural gathering place for the whole family.
---
Product Information of VIA Copenhagen's – EAT Dining Table – Rectangular – End Extensions
Design: Via Copenhagen
Material and Treatment:
Solid Oak: Oiled, White Oiled, Smoked Oiled
Laminat or Linoleum surface and solid Oak base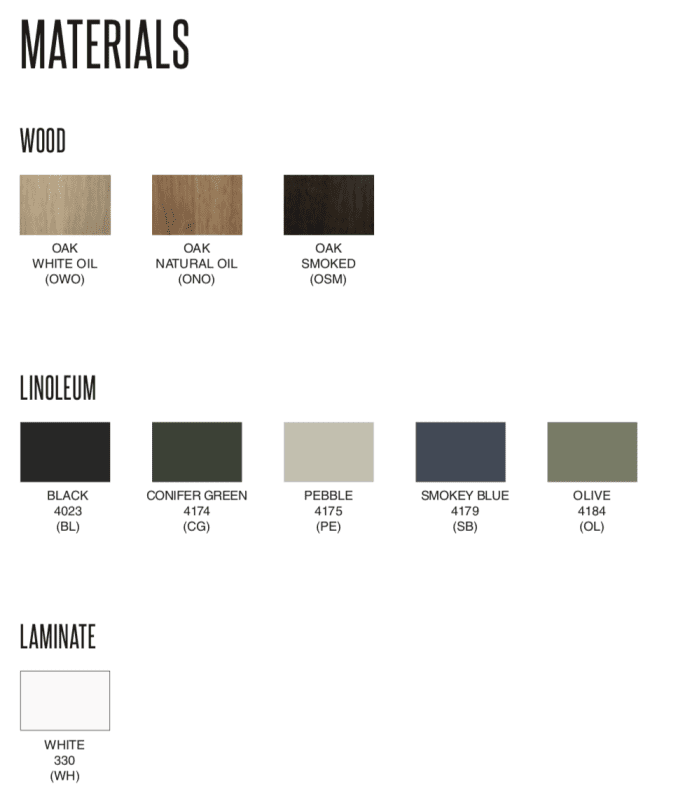 If you choose Linoleum or laminate surface Please add the surface material, Color and the No. as a comment in the shopping cart by ordering.
Dimensions:
Height: 74cm
Depth:  90cm
Width:  200cm ( Extended Width: 250cm | 300cm  )
Weight: 40kg ( Including Extensions: 50kg | 60kg )
---
See also the J39 from Borge Mogensen or CH24 by hanswegner.
---
Delivery:
4-6 Weeks
---
VIA Copenhagen – EAT Dining Table – Rectangular – End Extensions
EAT RECTANGULAR looks light, can be matched with many different types of dining chairs and is able to withstand everyday use.
It's smallest configuration is well suited for small flats, in the kitchen or where there is otherwise little space. It could also be ideal as a classic games table if a top surface in dark-green linoleum is chosen. The table is made of continuous, solid-oak laminboard and can also be selected with a linoleum or laminate top. Regardless of the choice, the solid wooden edge will always appear soft and in nice contrast to or beautifully matched with the top.
---
Important Information:
If you have general questions about the products of Via Copenhagen or are interested in a larger order, you can of course contact us directly by email: info@nordicurban.com
Nordic Urban is the official German partner of Via Copenhagen and guarantees the authenticity as well as quality of every product. Besides these products we offer a wide range of Scandinavian furniture, lighting and accessories.
Nordic Urban in Berlin, your expert for Scandinavian design!
Follow us on Facebook, Instagram, X(twitter)
| | |
| --- | --- |
| Weight | 40 kg |
| Dimensions | 220 × 100 × 30 cm |
| Table top Material | Oak oiled, Oak white oiled, Oak – smoked, Laminate, Linoleum |
| Extensions | none, single, paired |
| Extension Material | Oak, Laminate, linoleum |
Related products